Ads allow content creators to provide free useful and compelling content to the public. We may earn money or products from the companies mentioned in this post. See the Affiliates and Disclosures page in the top menu of this website for detailed information.
Designer style crochet bag pattern
This beautiful structured designer crochet bag pattern will up your crochet bag game!
This modern crochet handbag has rich style details with handsome hardware to make it feel substantial and truly luxe. I like sophisticated bags that are big on style and make a statement! That is how I came up with this design.
Special touches at every turn give this crochet bag a designer look that is as good, if not better than crochet bags that cost $400 to $7,000 (yes seven thousand) dollars. The great thing about making it yourself is you don't have to spend that much cash only to end up with something that other people have. Your bag is uniquely yours.
Check out these other modern crochet bag patterns
This bag has more just a few more steps than boho easy breezy style bags.
Worry not, I have the pattern broken down into steps with a video tutorial to help you do each one just right and ensure you have a good project making experience!
To make it you will need hardware, mesh for a bit of structure (only a dollar or two wherever you are picking up your yarn at) and a closure of your choice. Links to what I used are in the pattern.
Why designer crochet bags are so expensive
With all these details in mind is it any wonder why designer bags are so pricey?
It's all the details AND workmanship. Once you make your designer handbag it you will have it forever and get compliments every time you carry it! I sure do!
This bag uses beginner stitches, mercerized cotton yarn, an easy (no sew- if you have no machine nor do I!) liner and a 4.0 mm crochet hook.
I recommend blocking materials for a crisp look.
Of course I have video help to help you assemble everything perfectly. Depending how much time you have you should be able to get it done in a week (maybe two) or thereabouts.
Reminder: I have the pattern set up in steps so you can do one step a day if you like once you complete the main body piece.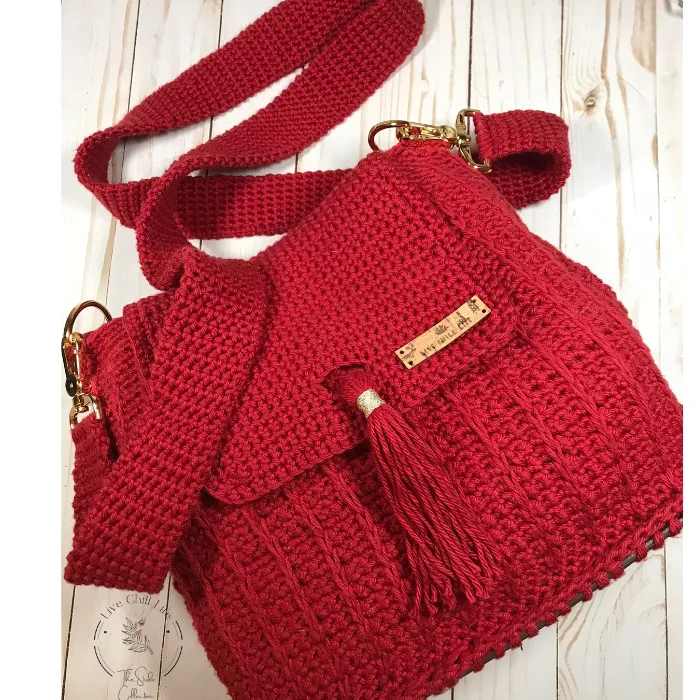 Crochet bag pattern in color combinations
Think of the unique color combinations! Navy and white, camel and black, olive and tan, turquoise and ivory. Lots of fun options for lining like novelty prints or a luxe poly satin. Either one will work in this structured design. Whichever suits your taste.
You can also customize the length of the bag straps to suit how you like to carry your bag. You can make a longer strap if you like a cross body or over the shoulder look but I kept them short as I prefer to carry a bag in the crook of my arm. I designed a strap that has very little stretch and compliments the stitches used in the bag itself.
Read about this design no stretch crochet strap or Check out the video tutorial for no stretch strap!
A second style of no stretch crochet straps is in this post.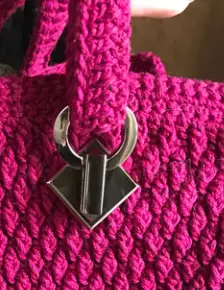 Get the details to make your own designer crochet bag pattern
Get your pattern here: https://www.ravelry.com/patterns/library/camellia-designer-handbag