Ads allow content creators to provide free useful and compelling content to the public. We may earn money or products from the companies mentioned in this post. See the Affiliates and Disclosures page in the top menu of this website for detailed information.
Free crochet pocket shawl ideas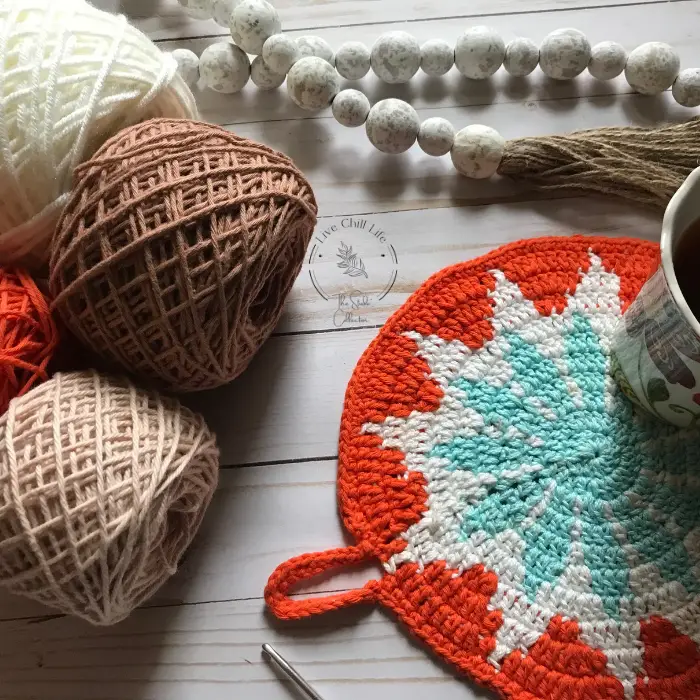 If you're thinking about crafting a trendy crochet pocket shawl pattern and struggling to decide on one, don't worry. Remember, it's okay to have more than one pattern. There are no rules in the world of crochet accessories.
This pattern collection aims to streamline your decision-making process by helping you pick the best pocket shawl pattern to suit your needs. Choosing a pattern can be an exciting, yet pivotal, aspect of your crochet journey. So, let's get started!
In this piece, I've brought together my top choices of both closed stitch and open weave crochet pocket shawl patterns that are perfect for different weather conditions. Whether you're picking one for yourself or as a thoughtful handmade present, it's crucial to take into account the type of yarn and stitch size that's just right for your project.
Prepare to immerse yourself in an exciting world of pocket shawl crochet patterns! Revel in the sheer variety, from sublime open weave designs for spring and summer to intricate closed stitch patterns that will keep you toasty warm in winter and fall months.
You'll be delighted to know such a broad selection of patterns ready to be explored. Be mindful of the yarn type and size when choosing your project, as these patterns often differ significantly.
So, get your crochet hook ready and delve into these splendid pocket shawl designs, each promising a chance to expand your crochet prowess. Shawls are a great way to work up a new stitch or stitch repeat to create an eye catching finished project.
Some of these meticulously detailed patterns come as handy PDF downloads, ensuring you nail every stitch and size to perfection. Others are free or as an ad free paid download.
Table of Contents
Check out my project trackers!
Check off style tracking with room for a note on each row.
Large print and regular print available. Large print is great for tired eyes.
Sections for small, medium and large projects so you don't waste any pages.
See the Shop my Books section.
What is a pocket shawl?
They can go by different names, crochet reader shawl, crochet prayer shawl, crochet shawl with pockets, crochet pocket scarf, are some of the terms used to describe these very useful crochet accessories.
Do you want it for warmth or for function? It's great to toss on pockets when you don't have any simply by putting on a pocket shawl even if it's just around the house to hold your cell phone or something else small and not too heavy. I won't judge if you keep the tv remote in it!
Materials to make a crochet shawl with pockets
Yarn (usually a category 3, 4 or 5 yarn will be uses for this type of shawl)
crochet hook as outlined by the pattern
measuring tape
scissors
tapestry needle
Open weave Summer friendly pocket shawl crochet patterns
If you're looking for a stylish and versatile accessory to add to your summer wardrobe, crochet pocket shawls are the perfect option. These adaptable pieces come in an array of types, colors, and yarn options, each uniquely suited for warm weather conditions.
Why, you might ask, are these shawls so suited to summer? The magic lies in their breathability and adaptability. The yarn you choose can be as light or as cosy as you prefer – opt for cotton or bamboo yarn for a lightweight feel, perfect for those balmy evenings by the beachside.
This wrap design has lots of openwork stitches and texture that makes it fun to work on. Low on repetitive stiches which is great for crocheters who get bored easily!
Hooks, books, wanderlust has created the cozy fireside shawl in a beautiful wearable shade but you can get creative and make what best suits your wardrobe. with the free crochet pocket shawl pattern.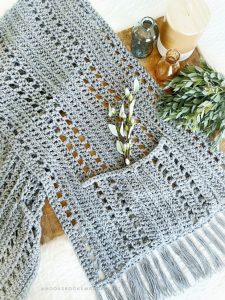 The Wanderlust crochet Pocket Shawl from Heart Hook Home has an open airy design that is reminiscent of a fisher's netting. The designer uses a superwash merino wool in the design for softness and washability. Shawls get a lot of wear and tear so a washable yarn is important.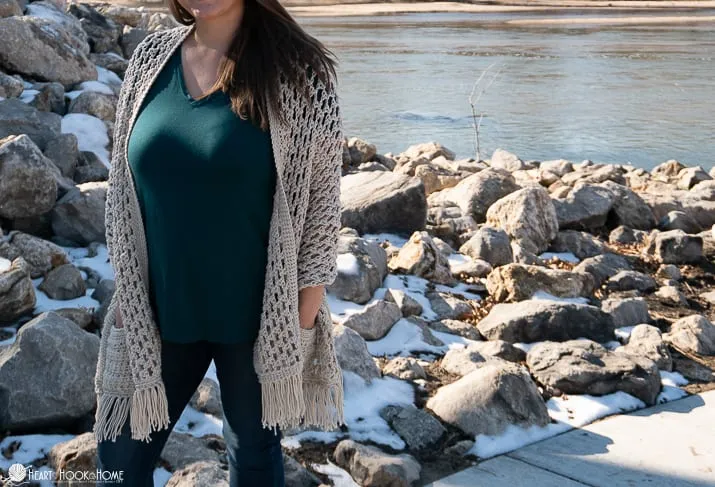 Try using cotton yarn if you're in a warm climate and want more year round use of this design.
I have a whole post of warm weather friendly yarns.
This crochet pocket shawl is made from category 3 cotton for year round comfort. The open flexible stitch pattern looks lightweight and has plenty of texture for visual interest.
Great for even warmer months when the air conditioner feels cool or you just want an accessory for your summer basics without adding heat.
It has 3 different size options to get the right length and width for your unique build.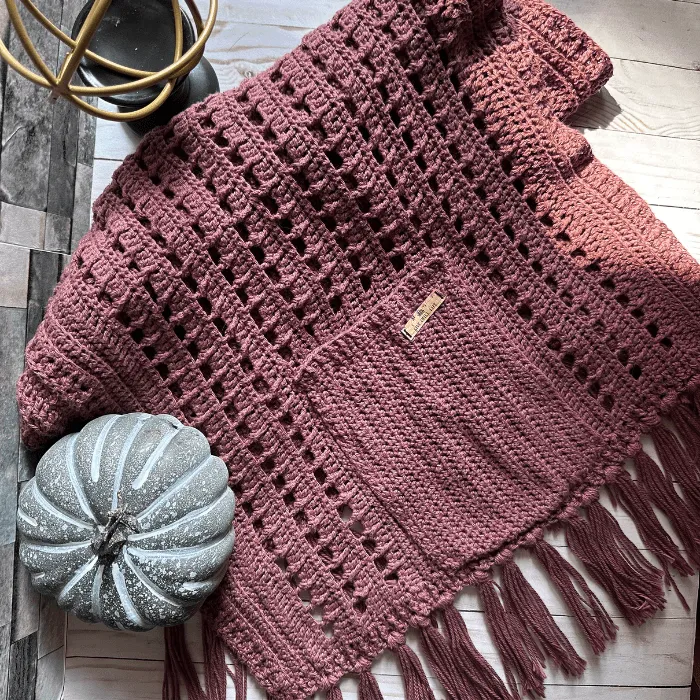 Warm pocket shawl crochet patterns for fall and winter months
If you want function and warmth from your crochet pocket shawl these are great options to consider. They have a closed stitch sequence and warmer yarn fibers so no cold air will get through!
This warm and toasty pocket shawl from crochet with carrie Has closed stitched with a wide ribbing detail to keep you cozy in cool weather.
It's such a beautiful visual interest texture while still being understated and classic.
She uses aran and wool blend yarn for softness and washability as well as a layer of warmth when your shoulders get cold.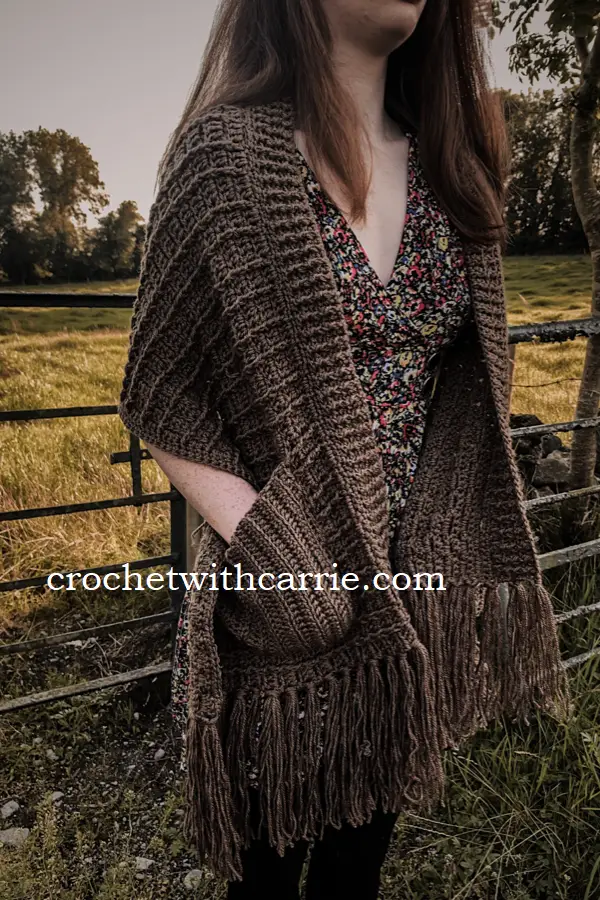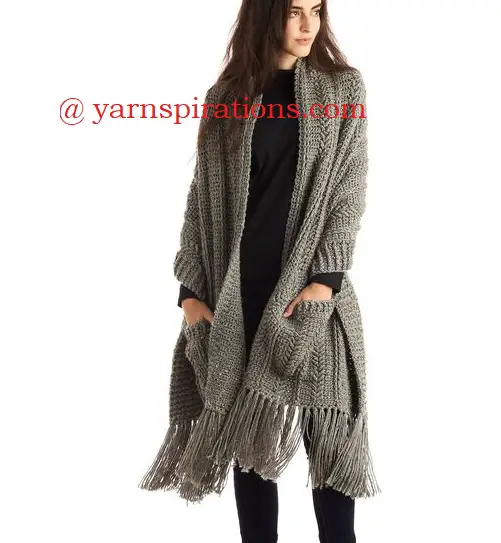 This stunning pocket shawl from yarnspirations features another beautiful texture for visual interest.
Elegant and generously sized you can look stylish while keeping warm. It feels like a big hug. What a great gift it would be for someone you love.
This design from Lulo Stich co is simple but chic. The Sabrina wrap is a free pattern available in the website and it features fun fringes and beginner to advanced beginner stitches.
Why not push yourself if you're a relative newbie and advance your skills with such a wearable piece?