Ads allow content creators to provide free useful and compelling content to the public. We may earn money or products from the companies mentioned in this post. See the Affiliates and Disclosures page for more information.
Cute crochet baby gift ideas
Looking for crochet baby shower gifts idea that are not another baby blanket? How many does a new baby need? I have heard many mothers mention they receive anywhere from 5-9 baby blankets at a shower.
Other expect gifts are crochet baby hats, crochet booties for baby, etc.
We can do better than the expect crochet baby gifts for new moms with other items baby will enjoy.
Table of Contents
There are many other darling and memorable crochet baby shower gifts that can be kept for years as a keepsake well past toddler years.
I have collected some ideas below that will surprise and delight the mother to be. Crochet baby gifts top the charming scale when it comes to heartfelt items to give a new mom.
Bunny Pillow crochet baby gift idea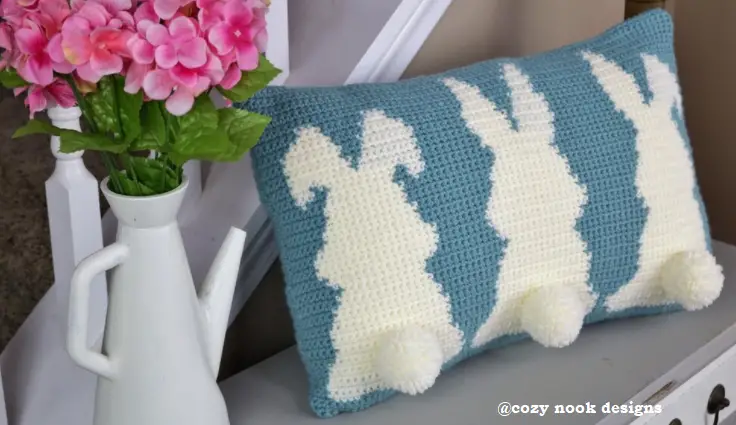 A darling bunny pillow is a lovely addition to a nursery resting in a chair, crib or with the plush toys.
For a crochet baby gift, consider making it in soft shades like yellow, mint, pink, blue or even a soft neutral taupe. Whatever you think mother-to-be would enjoy.
Get the pattern the crochet bunny pillow .
A crochet teddy bear is a perfect gift
Make this bear in a that is super soft and non irritating like pima cotton that feels nice next to baby's skin.
It measures a substantial 13″ high so it won't get lost in the crowd.
Get the pattern crochet teddy bear pattern.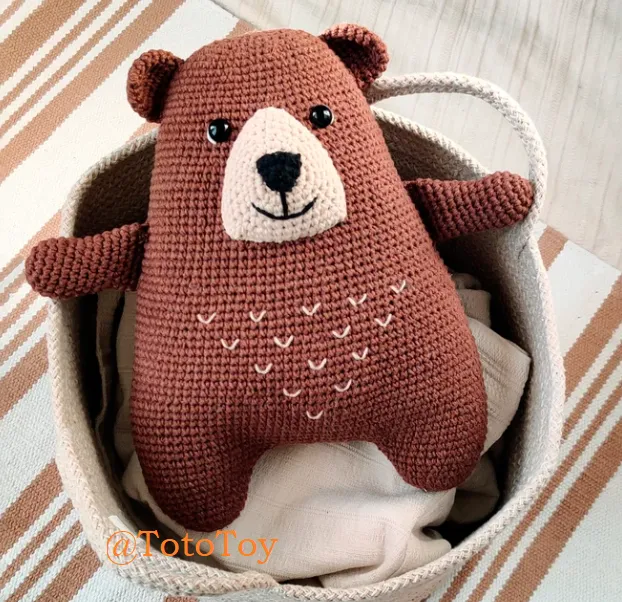 Crochet baby romper
This adorable romper uses category 3 cotton yarn. In a unisex color you can't go wrong with this little wearable that will become an heirloom item in baby's collection.
Perhaps pair it up with a complimenting color of store bought or crochet socks for a sweet baby set.
Get the pattern from croby patterns crochet baby romper.
Project trackers for crochet and knit projects
Check out my project trackers!
Check off style tracking with room for a note on each row.
Large print and regular print available. Large print is great for tired eyes.
Sections for small, medium and large projects so you don't waste any pages.
See the Shop my Books section.
Crochet baby rattle
A baby can never have too many rattles. Your crochet doggie rattle is sure to stand out if there is a crowd of them!
This will work up quickly if you are short on time with a baby shower just around the corner.
Get the pattern crochet baby toy rattle.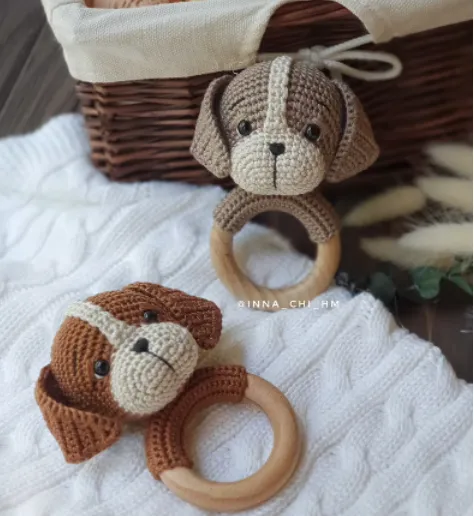 Crochet mobile for baby
This beautiful and creative circus themed mobile is a unique way to entertain baby when he or she lays in the crib.
Delightful animals, interesting shapes and fun colors are sure to make this a hit with mother and baby alike.
Get the pattern crochet mobile for baby.
Crochet pillow for the nursery
Sweet dreams are sure to happen with this happy cloud pillow for the crib or the nursery. Soft and inviting chenille style yarn make the pillow look like a billowy cloud in the sky.
Get the pattern crochet cloud pillow.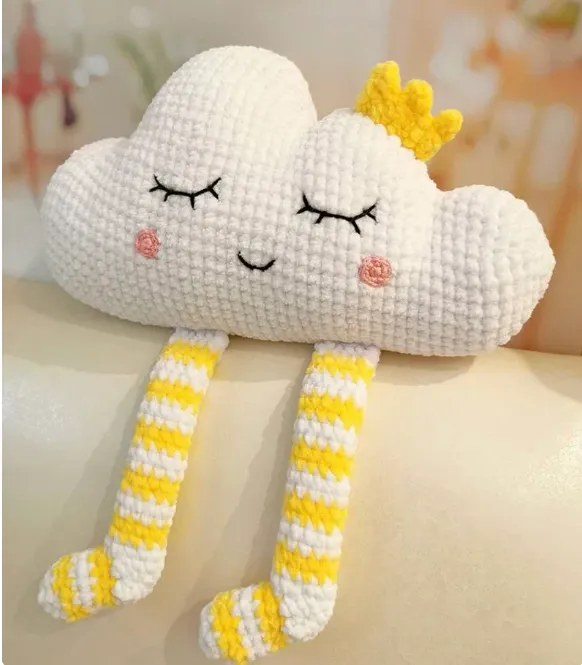 Crochet hippo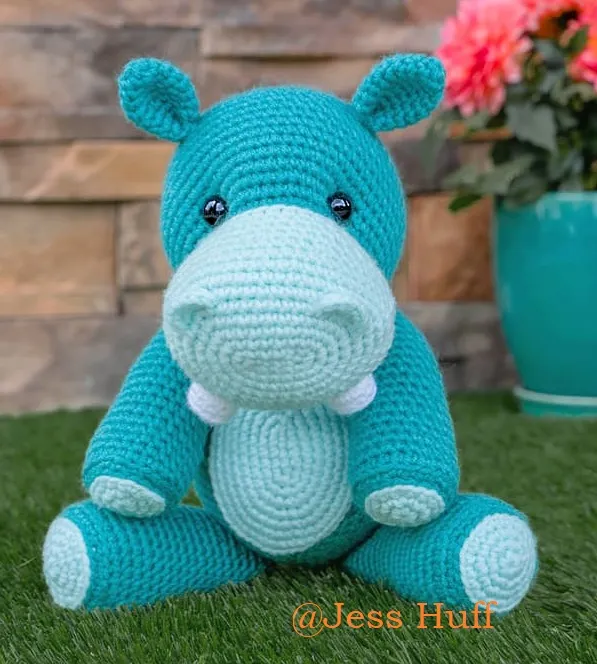 This crochet stuffy is a fun toy gift option for the baby's room, chair, crib or anywhere else the baby /youngster can enjoy this colorful cheering creature.
The designer has quite a few other precious animals to consider on the site as well if a hippo isn't your taste.
Get the free crochet hippo pattern.
Baby wall hanging
A gift that won't clutter up a nursery because it hangs on the wall! Make it in a soft solid or two tone. You can use value yarn for this and work it up in a few days.
See the crochet baby wall hanging pattern here.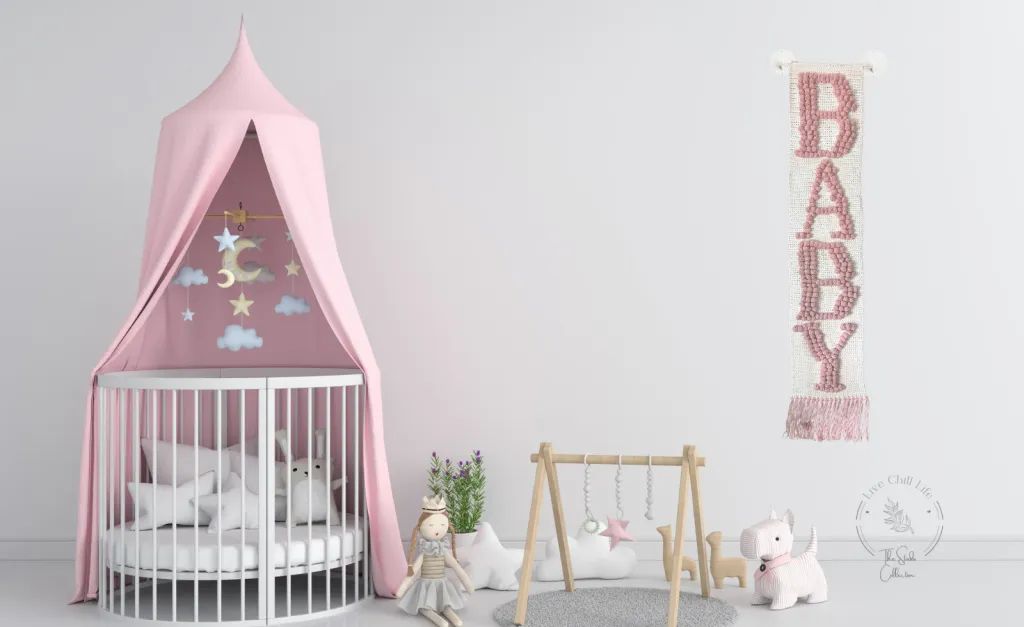 Crochet curtain tie backs for nursery
Darling and charming crochet sheep tie backs for curtains is a unique gift for sure! This is a gender neutral design that will bring a smile to the faces of everyone who see them.
Get the lamb tieback crochet nursery pattern.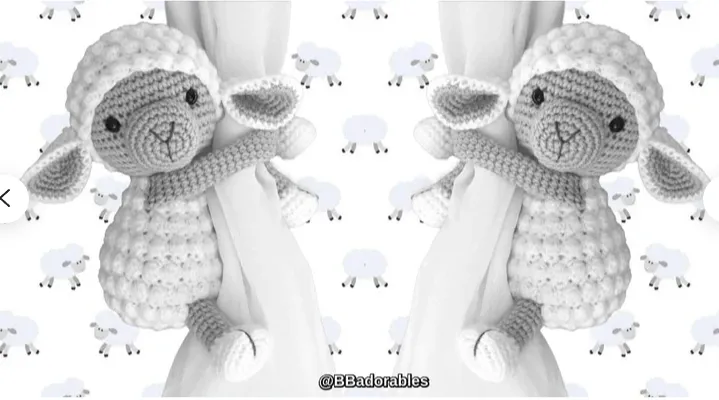 Crochet baby bib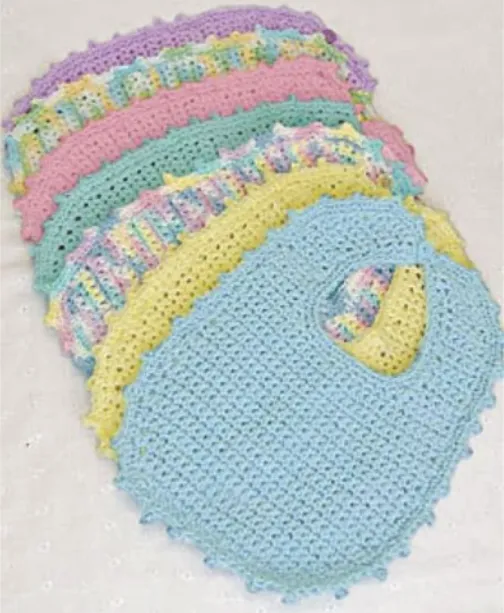 Babies need lots of bibs! Consider crocheting a few of this to give as a useful baby shower gift.
Get the crochet bib pattern.
Crochet baby tuxedo
Is your mom to be going to have a boy that would like to be decked out in style?
Then this baby tuxedo accessory set may be the gift that makes mom smile when she opens it and posts photos to the family instagram or facebook.
Get the pattern here.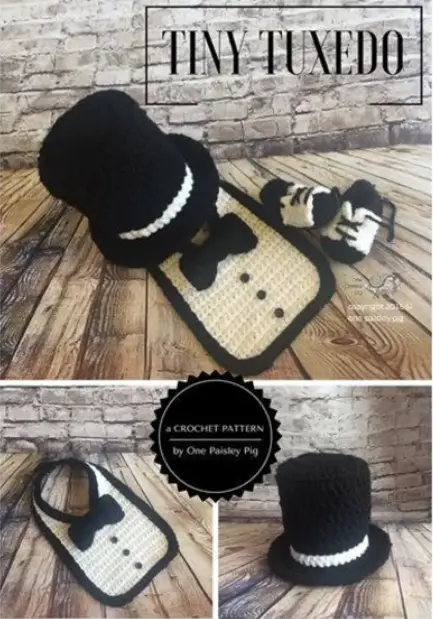 Crochet a bunny or teddy lovey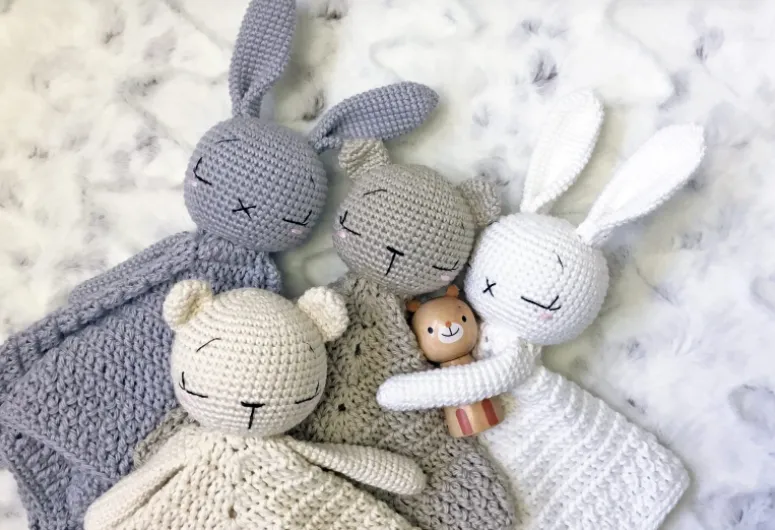 A crochet lovey is a hybrid of a plushie and a blanket. Sure to be a favorite of baby and mom alike.
This pattern gives you the option of a cute bear head or a cheery bunny face to top your lovey.
Get the pattern crochet lovey pattern.
If you want to make a gift for mom too, how about some crochet slippers and add non skid soles to keep her steady during late nights with baby.
In the event you may want to crochet a baby blanket I have some here to consider or this rainbow stripes crochet baby blanket.