Ads allow content creators to provide free useful and compelling content to the public. We may earn money or products from the companies mentioned in this post. See the Affiliates and Disclosures page in the top menu of this website for detailed information.
Beautiful baby blanket patterns
Here are tips on how to pick the perfect free crochet baby blanket pattern to make a gift that will be treasured for a lifetime. Safe stitches that won't hurt baby.
For baby gifts to crochet that are not a baby blanket you can consider many other nursery items. I have heard stories of expectant moms getting up to 5 baby blankets as gifts!
Table of Contents
Crochet baby projects like a crochet baby motif crochet wall hanging, nursery items like curtain tie backs, stuffies, pillows, jumpers, cradle mobiles, and more can be seen in this post about alternative crochet baby shower gifts.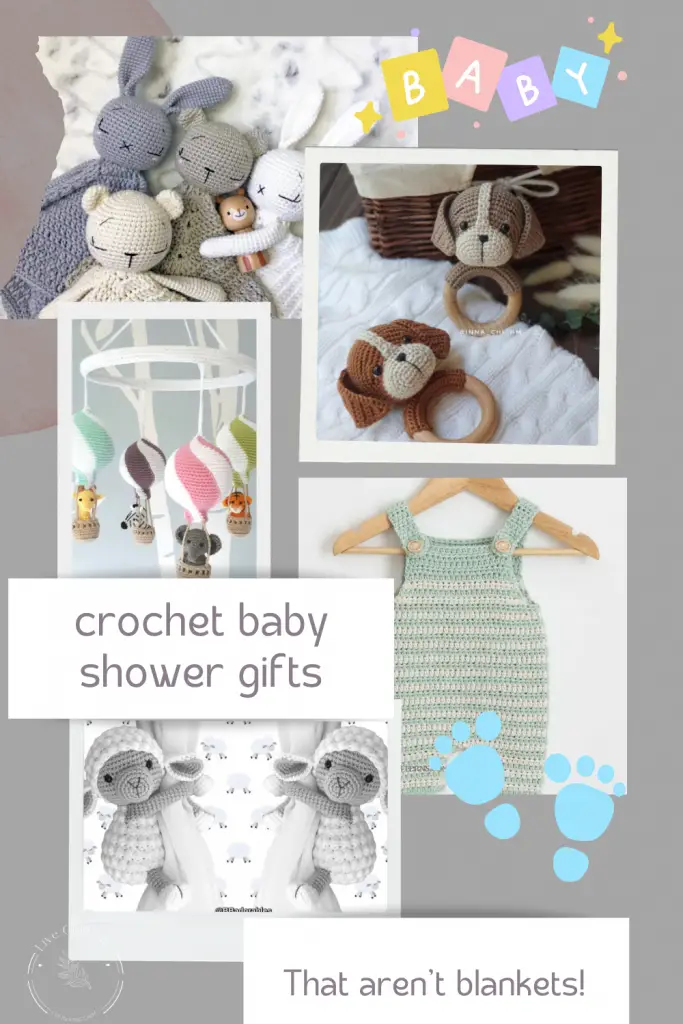 What to look for in a baby blanket pattern?
Some patterns will be labeled as a baby blanket but it can only refer to size and be considered a baby blanket.
For safety reasons, the stitch will matter. Nothing that fingers and toes can get caught in so a lacy blanket or open stitch isn't well suited for this item.
Next, consider the yarn. Babies have sensitive soft skin and a soft yarn should be used. A cotton blanket can be nice to avoid overheating. It can be layered over to feel weight but not overheat. Softer acrylics like non-pilling acrylic style yarns are squishy and soft. Some yarn brands have baby specific yarns which are a good option as well.
Now let's look at some free crochet baby blanket patterns!
A size guide for baby blankets
How big should a baby blanket be? You have options! If you suspect you won't be the only baby blanket gift consider a size that is suited to. This may help you better determine which yarn, color and size you want to make.
Should it be a blanket that can "grow" with the baby? Or something suited to the very early stages of life?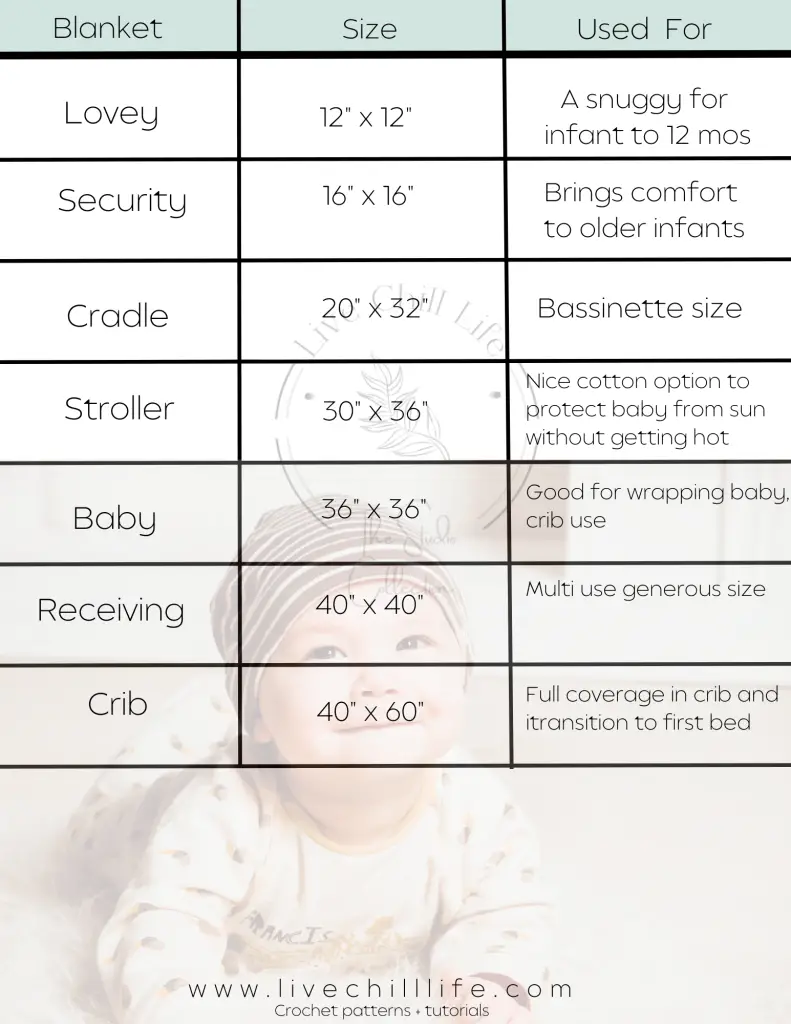 Easy crochet baby blanket with ribbed border
A soft flexible and durable blanket. This stitch works up quickly. Pattern uses category 3 yarn and a 5 (H) mm crochet hook.
See the free pattern from Jo to the World and make this crochet baby blanket.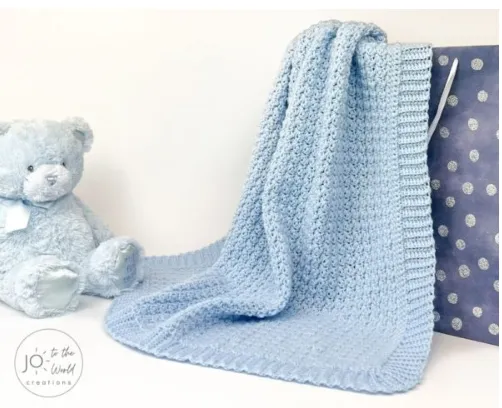 A baby blanket that looks as sweet as candy
Colorful dots are a cheerful accent on this baby safe stitch simple blanket perfect for any and every baby.
The designer uses super soft velvet with some tips to make working with the yarn easy.
See the free crochet baby blanket pattern.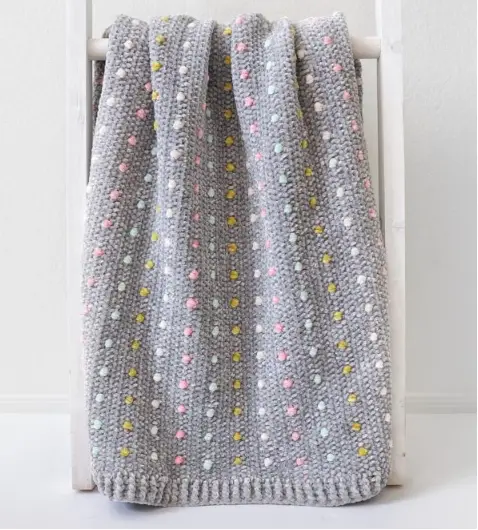 A chevron crochet baby blanket
A beautiful texture look with baby friendly stitches that fingers and toes won't get stuck in.
For this blanket you can use category 3 or 4 yarn and a 3.75 mm hook. Simple single crochet and single crochet two together are all you need to know to make a blanket with big impact.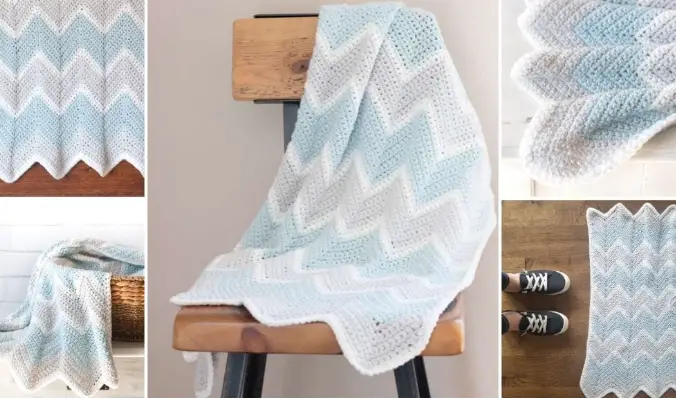 See the crochet chevron baby blanket free pattern.
A striking colorful baby crochet blanket
The designer used such wonderful tones in this blanket it gives me cozy cottage vibes. This blanket has baby safe no holes stitches and plenty of visual interest with texture and color.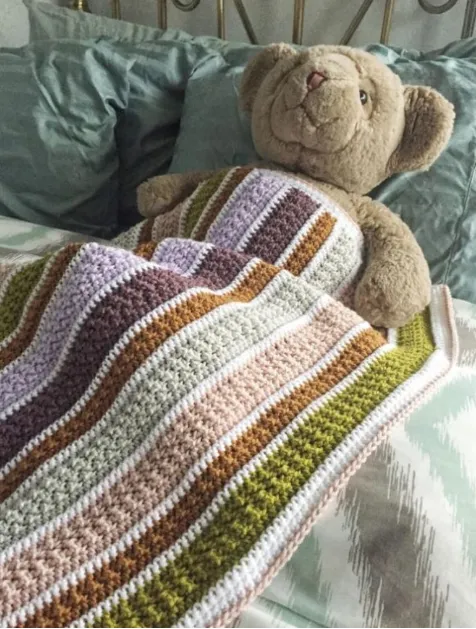 The blanket uses a beginner friendly pattern that mixes three stitches: single crochet, half double crochet, and crossed half double crochet.
To make it you will use a 6 mm crochet hook and category 4 yarn
See the free crochet baby blanket pattern by This Pixie Creates.
Crochet waffle stitch baby blanket
The waffle stitch is a great option for a baby blanket. Plenty of texture and no dangerous spaces for little fingers and toes. A classic design a mom to be will love.
This pattern from Sirin's crochet uses category 4 yarn and 5mm hook for blanket
4.5mm for the border. Different sizes are listed in the pattern for your convenience.
Check out the blue waffle crochet baby blanket pattern.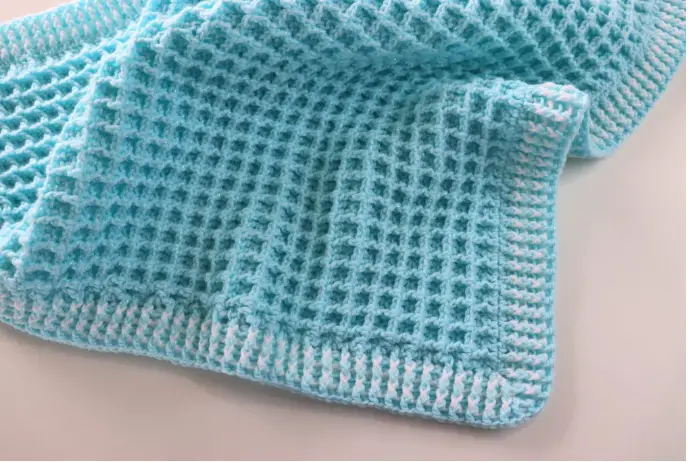 Crochet rainbow baby blanket
This beginner friendly pattern works up quickly and minimizes ends to weave in with a simple step. Three sizes to get the right size for baby's (or adults) needs. This pattern uses soft cotton but you can use whatever category 4 yarn you like.
Sweet Dreams Rainbow crochet baby blanket free pattern.
Baby hearts crochet blanket pattern
Imagine hearts full of love covering baby every sleepy moment. Baby safe stitches with tone on tone texture of hearts sprinkled all over. What could be more precious other than baby itself?
 You can use any brand of size 3 yarn to make this Hearts Puff Stitch Baby Blanket. Size 3 is also referred to as DK or Light Worsted. This will give a beautiful drape to the blanket.
See the free pattern to make this heart themed baby crochet blanket.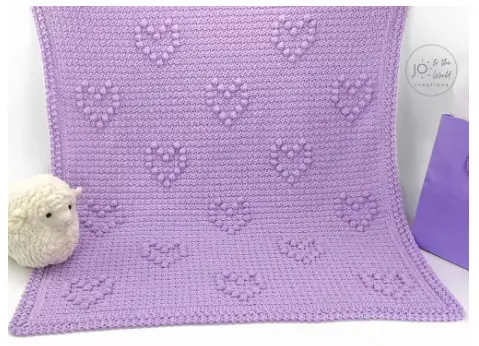 T-shirts and project totes for crocheters available in my Etsy shop!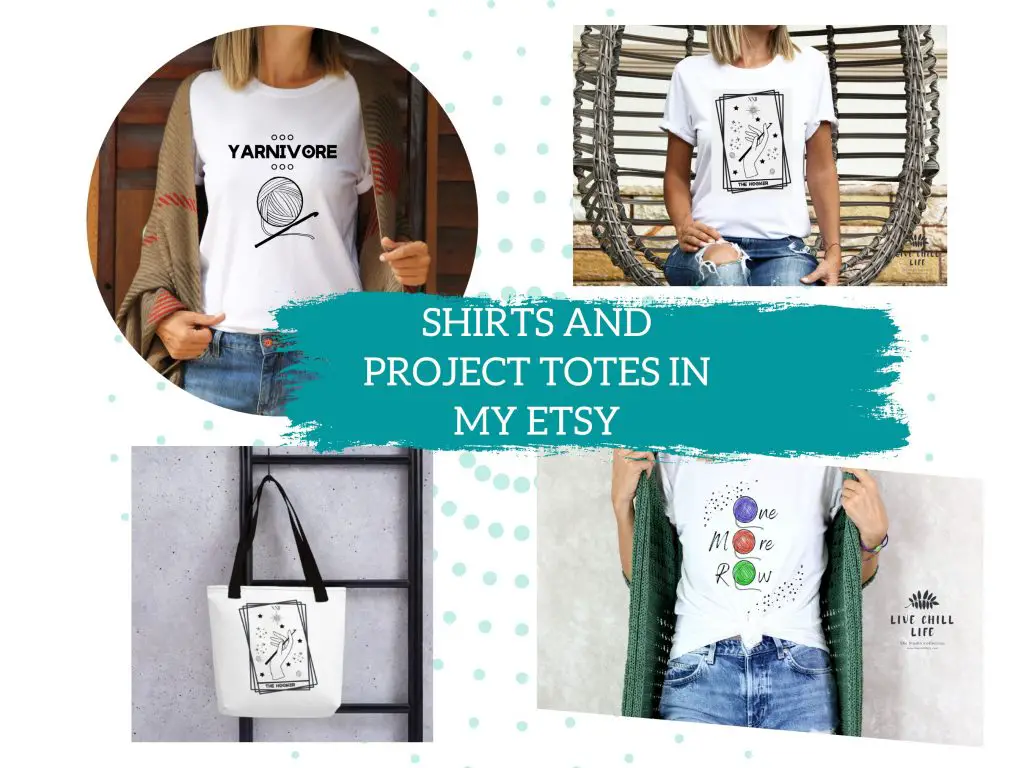 The crochet love blanket
While named the wedding blanket, this is a blanket designed with love. Two pairs of rows represent two hearts and the love knot style stitches in the textured area infuse an additional love sentiment.
See more pattern information for this crochet baby blanket.