Ads allow content creators to provide free useful and compelling content to the public. We may earn money or products from the companies mentioned in this post. See the Affiliates and Disclosures page for more information.
How to crochet a ribbed hat for beginners
If you're looking for a simple ribbed crochet hat pattern with just a little pizzazz look no further. This hat will teach you crocheting a hat in the round technique and how to crochet a hat with a magic circle – the start of working in the round.
With this design you can work up a wide ribbed hat with stretchy brim in a day or less than a day.
Table of Contents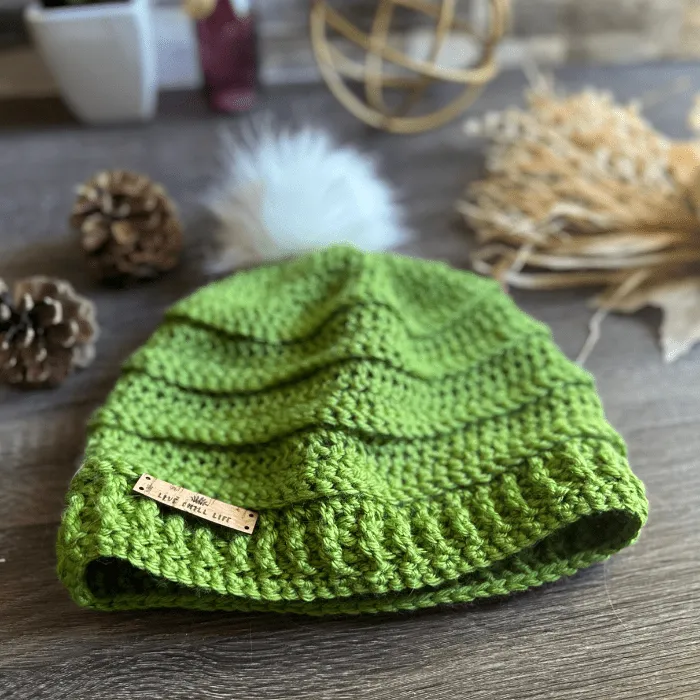 It is beginner friendly and your may already have the yarn you need on hand in your stash!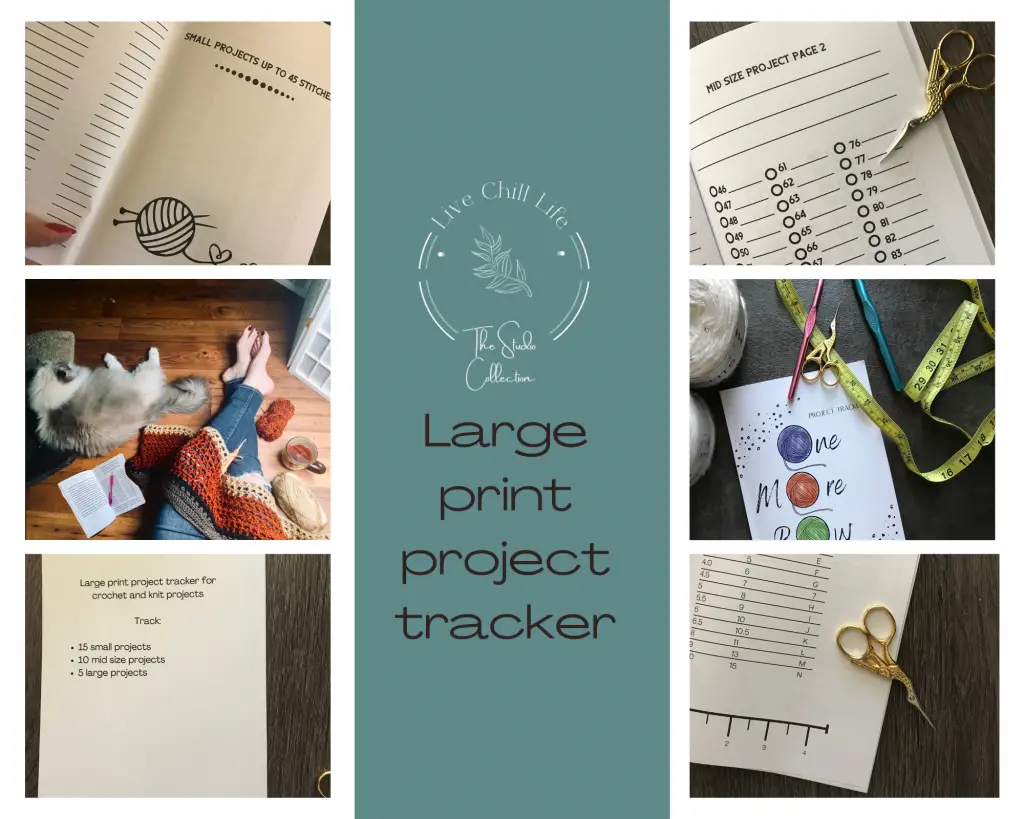 I designed project trackers! This is the large print version for tired eyes. So much easier than using apps, scraps of paper or a plain notebook.
Three project sizes, a handy ruler and hook guide inside the cover and plenty of rooms for notes in each pattern.
A handy 9″ x 6″ size.
Buy it here.
Regular size print here.
Green is my favorite and this guacamole shade from Red Heart soft is the perfect shade to me. This pattern is based on a 4 weight yarn. The hat is worked in the round from the top down, continuing into the ribbed brim.
Materials needed to crochet a ribbed hat
Materials:
3 ounces category 4 weight yarn
5.0 mm & 6.0 mm crochet hook
tapestry needle
scissors
puff for top of hat (optional)
Crochet stitch terms used in this pattern
sc (single crochet)
dc (double crochet)
slst (slip stitch)
fpdc (front post double crochet)
bpdc (back post double crochet)
If you don't know how to do fpdc and bpdc I have a video to help you out!
 You may also like the free crochet patterns for this brimmed crochet hat and matching scarf.
Ribbed crochet hat with brim pattern
This hat is written for a women's size about 6.25" at the crown. You can increase to 7" or decrease width by doing fewer crown rows for a child's size.
Begin with 6.0 mm hook. Ch 4, slst to join to form a ring
Round 1: 12 dc into the first stitch/ring. stst to join round.
Round 2: ch 2. 2 dc into each st. sl at end of round.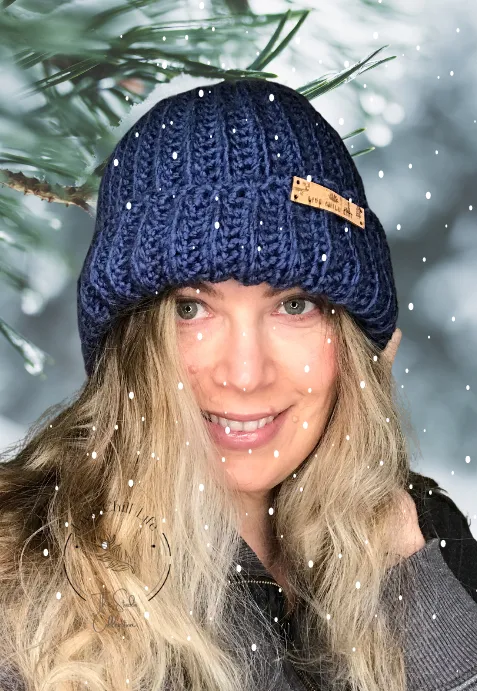 Round 3 ch 2. * dc in first st, 2 dc in next. Repeat * to end of round and slst to join.
Round 4 ch 2. *One dc in first two st. dc 2 in next*. Repeat * to* to end of round. slst to join.
Round 5 ch 2. *One dc in first three st. dc 2 in next.* Repeat* to* end of round. slst to join.
You should be at about a 6.25" measurement at this point. Add another row if you need more width, increasing in the 5th stitch of sequence.
Round 6 ch 2. dc around, slst to join.
Round 7. ch 2. fpdc around. slst to join.
Round 8 & 9. repeat row 6
Round 10. Repeat row 7
Round 11 & 12. Repeat row 6
Round 13. Repeat row 7
Round 14 & 15 Repeat row 6
Crochet hat brim pattern
Crochet ribbed Brim:
Change to 5.0 mm hook
Ch 2. Fpdc first st. Bpdc next. Repeat alternation to end of round. Slip st to join.
Repeat round 1-2 more times based on how wide you want your hat brim.
Finish with a ch 1 and sc around. Weave in ends and attach decorative hat topper if desired.
If your faux fur puff is looking a little sad , try fanning a hair dryer over it on a medium low setting. It helps revive fur that can be deflated from shipping or being packed away.
.