Ads allow content creators to provide free useful and compelling content to the public. We may earn money or products from the companies mentioned in this post. See the Affiliates and Disclosures page in the top menu of this website for detailed information.
Free crochet dishtowel pattern
I love the look of crochet kitchen dishtowels! This crochet dishtowel free pattern uses two colors AND two stitches for visual interest.
Table of Contents
I first started to use crochet dishtowels to add visual interest to my food photography images but I found I was reaching for them on a day to day basis as trivets, placemats and moving around warm dishes. Single-ply crochet is not an effective proper potholder but all other warm, not hot, dishes, crockery and pans can comfortably be handled with them.
I like to put them under my mini crock casseroles for single-serve things like quiche (in the air fryer!), mac and cheese, or anything else you can fit into a gratin dish and bake to bubbly perfection. They absorb steam and moisture so your dishes won't leave watermarks.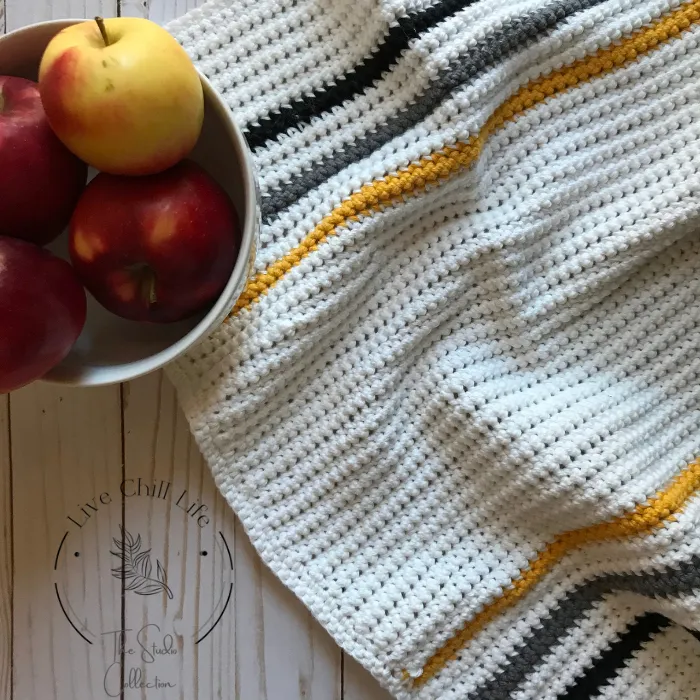 You may also like this farmhouse striped crochet kitchen towel free pattern
Materials used to make a crochet dishtowel
Nearly 100% of the time crochet dishtowels will be made with category 4 100% cotton yarn. Value yarn can be used, or if you want more of a drape go up to a softer cotton or mercerized cotton which shows stitches so beautifully. Lion Brand 24/7 is a gorgeous mercerized cotton and used in the designs you see on this page.
See the free pattern for this striped thermal stitch potholder that also uses Lion Brand Mercerized cotton.
You will also need a crochet hook that is a complimenting size of the yarn you're using to give enough drape and flexabilty that a towel should have.
A tapestry needle to weave in any loose ends and scissors to cut your yarn once your project is done.
T-shirts and project totes for crocheters available in my Etsy shop!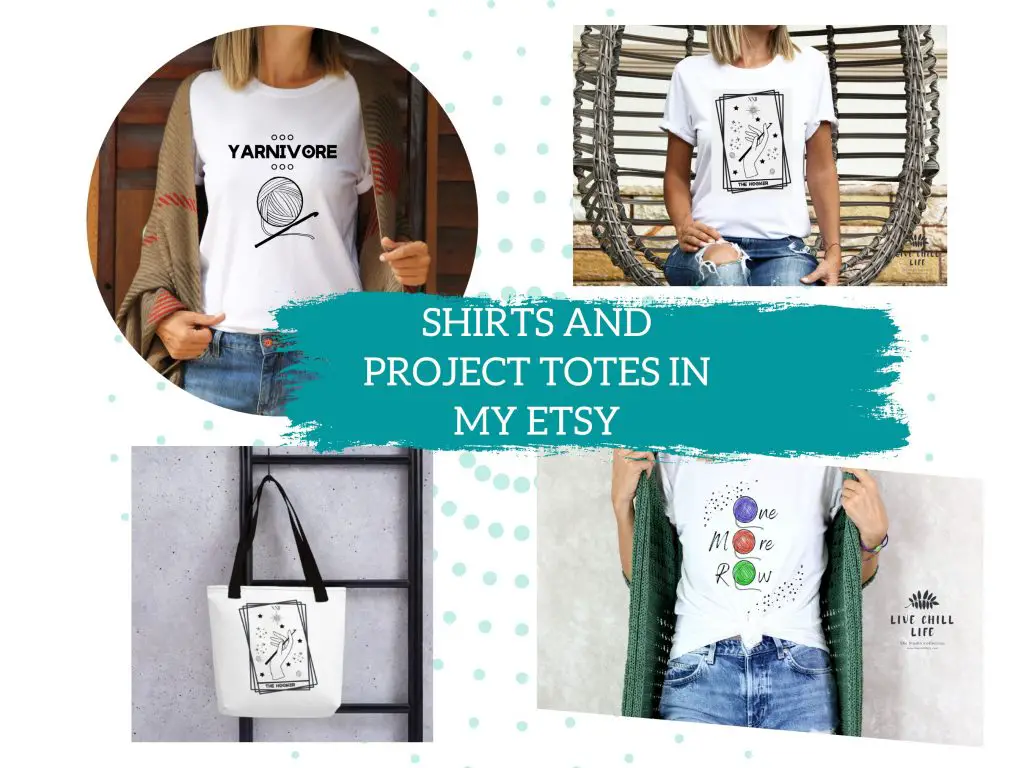 How to crochet the free dishtowel pattern
The Canterbury kitchen towel
By Stephanie Anderson
Finished size approx 14 x 18
Supplies to crochet the dishtowel
5 oz worsted 100% cotton yarn plus yarn for contrasting color (Color A & B)
J and K crochet hooks
Scissors
tapestry needle
Yarn in images are Lion 24/7 in taupe and white & Paintbox cotton aran in slate green and vanilla
US Terms
SC single crochet
HDC  half double crochet
DC  double crochet
SKS    skip stitch
CH   chain
ST stitch
TIP: Do not crochet tight stitches. Keep your wrist movements loose and comfortable. Towel should be slightly open weave and drape to have cloth-like movement. You may go up a size in hook if you like to achieve this with worsted yarn.
Using J hook chain 53 (or odd number of stitches to achieve the width you would like) .
Row 1:  Ch 1, turn and starting in first stitch from hook work sc across each stitch (52 st). Ch 1, turn. Maintain 52 count throughout .
Row 2: HDC in first stitch. *Skip next stitch and work (1sc, 1dc) in next st.*  Repeat from * finishing with HDC in last st. Ch 1, turn. (see image 1 on next page.)
Row 3-10 repeat row 2. 
Row 11: After ch 1 turn, use K hook introduce color B across row 11 using a sc for all 52 stitches. Ch 1, turn.
Row 12-14: repeat sc across all stitches. Ch 1, turn.
Row 15-56 Return to J hook and color A and repeat row 2. Or continue to desired length.
Row 56: Sc across all 52 stitches. Secure and weave in ends.
Check out my project trackers!
Check off style tracking with room for a note on each row.
Large print and regular print available. Large print is great for tired eyes.
Sections for small, medium and large projects so you don't waste any pages.
See the Shop my Books section.