Ads allow content creators to provide free useful and compelling content to the public. We may earn money or products from the companies mentioned in this post. See the Affiliates and Disclosures page for more information.
Whether you're having a difficult time getting fresh flowers or you want more value for your money with the longer lasting alternatives like everlasting flowers, I have tips and ideas for you to get that floral beauty fix you are after!
From the onset of the pandemic in 2020 you may have noticed fresh flowers are more difficult to get. Additionally with sustainability concerns globally around workers and the wildlife it impacts the market has changed. Everlasting flowers and flower alternatives are taking more of the mainstage now.
Since the pandemic, fresh flowers have been harder to get hold of and with global sustainability concerns for both workers and wildlife, the market is having a shake up and dried flowers are everywhere. 
You may like these crochet wedding dresses to buy or make as part of your everlasting flower theme.




Alternatives to fresh flowers
I did a post on crochet flowers that has been very popular. The designs are so lifelike and they last a lifetime! Intricate buds like orchids, roses, lavender – even sunflowers!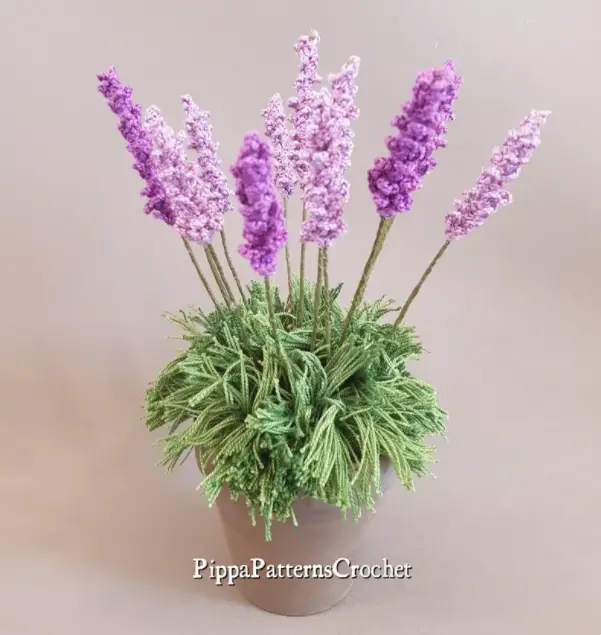 Because they are a small project they work up fairly quickly. If you're not used to using fine yarn it could take just a bit to get used to but once you get going it's a breeze.
The patterns are linked in the original post if you want to check them out.
I like to use my magnifier with a light for projects like this.
How to make exquisite everlasting flowers
When you can get fresh flowers why not dry them using methods outlined by Mary-Anne Da'Marzo of The Last Bunch in the UK you can do it yourself.
Her Soho shop has gorgeous dried bouquets for gifts, weddings, long lasting home decor arrangements and even textured small posies to brighten a tabletop.
Tips to create your own everlasting flowers from fresh flowers
Da'Marzo shares her tried and true techniques to create perfectly preserved flowers:
Air Drying fresh flowers
Time: 2-4 weeks
Air-drying flowers requires the least equipment to preserve your flowers. Firstly, remove any flowers from the stem that you do not want to be preserved. Then tie your flowers together with string or an elastic band at the end of the stem and hang them upside down on a hanger, nail or coat hook. For best results keep them out of direct sunlight while drying them as this can affect the color of your flowers. After 2-4 weeks your flowers will be dried. Regularly check back on your flowers during this time, once your flowers feel rigid and have a gentle rustle they are ready to be taken down and placed in your home.
Pressing fresh flowers to preserve them
Time: 3-4 weeks
Another way to preserve your flowers at home is to press them. For this method you need to get out your waxed paper. First, cut the stem of your flowers to the length you would like and find a thick hard cover book and place two sheets of wax paper on either side of the pages. Then place your flower at the center of the open book on the wax paper. Close the book and after 3-4 weeks your flower will be ready to be displayed. Pressed flowers look beautiful placed in a frame and put on the wall. This is a lovely way of having flowers from an important day in your life with you forever. 

Use silica gel to make everlasting flowers
Time: 2-7 days
Silica gel is a quick way of drying your flowers with excellent results. Firstly, trim the stems of your flowers and make sure your flowers are fully dry. Then, pour the silica gel into an airtight container. Place the flowers face up in the gel and add more gel in and around the petals but do not drown it. Once you have done this, seal the container and leave it in a dry place. After 2-5 days your flowers will have dehydrated enough to remove from the gel (some larger flowers might need up to 7 days). When the flowers are ready, remove them from the gel and brush off any excess gel from the petals and your flowers are ready to go!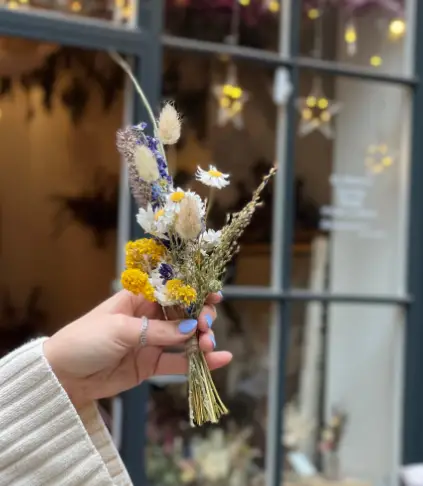 Glycerin to preserve fresh flowers
Time: 2-4 weeks
Glycerin is a fantastic way to always keep your flowers looking fresh. The flowers absorb the glycerin replacing the water in the flowers which keeps them looking bright and fresh. Firstly, you want to cut the stems of your flowers and trim some leaves off.  Next, you need to cut diagonally across the bottom of the stem and combine one part glycerin and two parts warm water. Then place the stems in this solution and leave for 2-3 weeks. Check your flowers after two weeks and if they feel rubbery then they are ready to come out of the solution. Let your flowers air dry for a few hours and then they are ready to be placed on display for everyone to see. 
How to freeze dry flowers
Freeze drying is exactly how it sounds, you are freezing your flowers. This keeps them the same look and color as they were when they were fresh. Buying a freeze dryer can be very expensive so if you are looking to do this just once then it would be more useful to take it to a professional company who can do this for you. Freeze-dried flowers take all of the moisture out of the petals and keep them smelling and looking fresh.
If you're thinking of using everlasting flowers for a wedding or a shower consider these modern day tea party ideas.
The Last Bunch is also supporting the important bee population with the mini bee-quets initiative with the charity, Bees for Development to support bees worldwide. See more information here.