Ads allow content creators to provide free useful and compelling content to the public. We may earn money or products from the companies mentioned in this post. See the Affiliates and Disclosures page for more information.
Best spring produce
Spring is the perfect time of year to enjoy the freshest vegetables and fruits. With the warmer weather and longer days, there are a plethora of vegetables that are in season and ready to be eaten. From asparagus to artichokes, here are five of the best spring vegetables that you should be eating this season.
Asparagus
Spring is the time of year asparagus is abundant in grocery stores and you will find it as its lowest price. You often can find tender and slender asparagus in addition to the thicker stalks. Use it in quiche, stir frys, cream of asparagus soup, simply roasted or grilled or as the star of a delicious salad such as this asparagus and strawberry salad. It is dressed simply with lemon, honey and oil.
Fava Beans
Tender, delicate and delightful, fresh fava beans are quite the culinary "get" if you can find them this season! They have a mild, sweet flavor and require very gentle heat to cook, making them a delicious addition to many dishes.
I like to make spring vegetable risotto, adding the fava beans in at the very end to preserve the beans' flavor and texture. Fava beans can also be cooked in a variety of other ways, such as sauteed, boiled, steamed, roasted, or even eaten raw in salads. They are a great source of protein and fiber, as well as important vitamins and minerals.
The possibilities for adding these seasonal beans to your cooking are endless.
To cook fresh fava beans on their own for use in other dishes, simply shell them and let them go for about 2 minutes in salted boiling water. Drain with a slotted spoon directly into a bowl of ice water.
Artichokes
From the freshness of the green market to the warmth of your kitchen, artichokes are a prized spring vegetable that is a wonderful addition to any meal. However, it can often covered in cream and cheese, masking the full flavor. Look beyond spinach and artichoke dip and enjoy this vegetable bare in all its glory!
To enjoy the true taste, it is best to steam them, as this will bring out the natural sweetness. Before steaming, it is important to remove the spiky tips (snip with kitchen shears) of the artichoke as these can be prickly and unpleasant to consume.
With a few simple steps, you can enjoy the full flavor of these delicious spring treasures.
Recipes to enjoy fresh spring artichokes:
Steamed asparagus with drawn butter
Grilled artichokes with dill yogurt sauce
You may like How to Use up Summer Produce
Radish
Crunchy, peppery radishes are a great way to add a zesty flavor and a splash of color to many dishes. When eaten raw, they are a great addition to salads and sandwiches, providing a crunchy texture and a spicy kick. You can even pickle them to have on hand. Try adding pickled radish to egg salad!
Did you know you can also roast them?
Roasting radishes brings out their sweetness and mellows out their spiciness, making them a great side dish or addition to a variety of dishes. The result is a tender, slightly sweet, and subtle flavor that can be served with a variety of dishes. Whether you're looking for a way to add a unique flavor to your meals or simply want to mix things up, roasted radishes are a great option.
You may like How to Make Saltines at Home
Spring mushrooms – Morels
Depending where you live, morels can be one of the more elusive of spring vegetables, or fungus as the case may be. Often foraged, but sometimes found in farmers markets in late March for a few weeks.
Ramps can be similarly elusive based on where you live and what markets you have available but they are worth finding if you're a mushroom lover.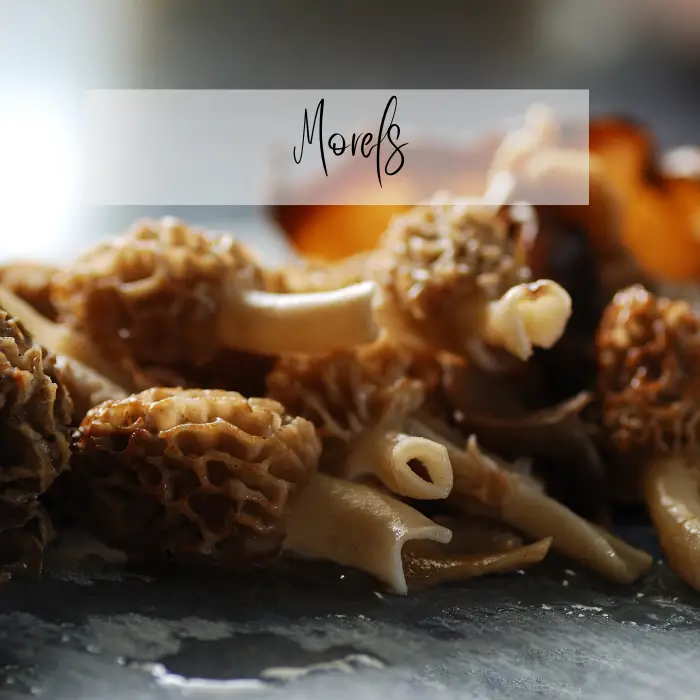 They are delicious served in fresh pasta with a butter or cream sauce, in risotto or simply sauteed gently as a side dish or over a good crusty toast.