Ads allow content creators to provide free useful and compelling content to the public. We may earn money or products from the companies mentioned in this post. See the Affiliates and Disclosures page in the top menu of this website for detailed information.
How to make saltines better
Do you want to make saltines at home? It's so easy and so tasty with this saltine recipe.
I love crackers, probably my favorite carb. The crunchy goodness without the grease of chips. Heaven. Let me tell you about my first introduction to the concept of handmade saltine style crackers. 15 years ago I was eating she crab soup at an upscale southern restaurant. The soup was dang delicious but what stole the show and my heart? The GIANT butter brushed house made saltines that came with it. They shimmered in the pendulum light above my table and they were adorned with benne seeds. Glorious chef, just glorious.
I remember my pause to eat because my brain was processing what I was looking at. A cracker, a homemade cracker was a show stopper. Who would have thought?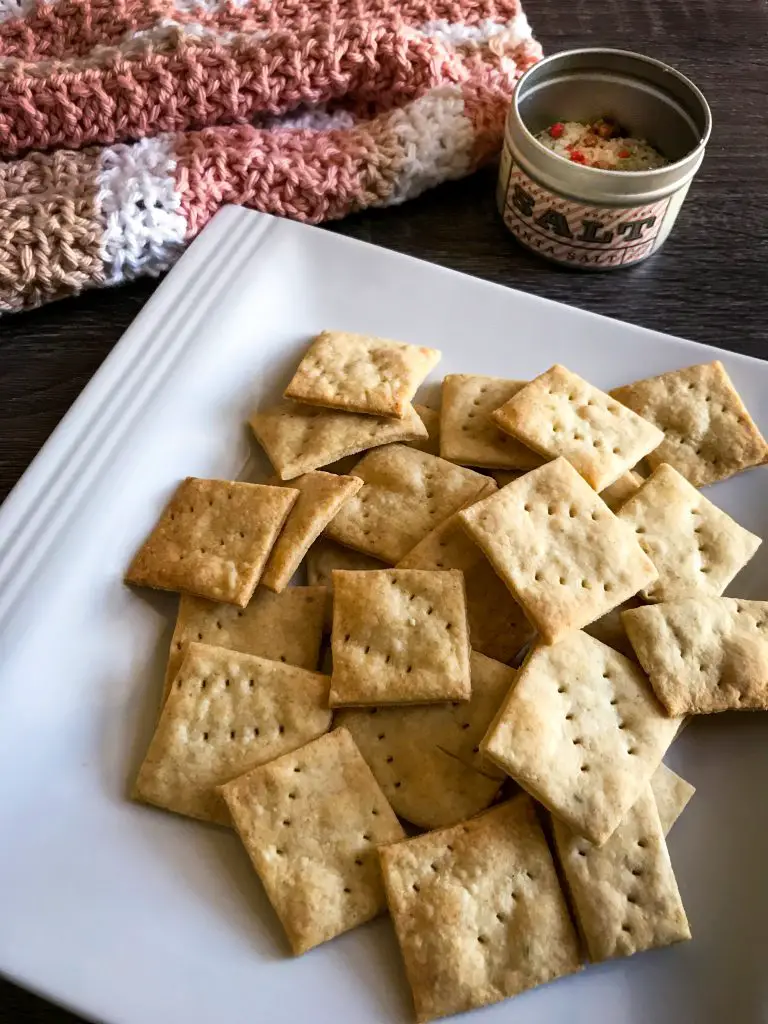 I love to make things from scratch and it never occurred to me to make my own crackers. EVER.
Crackers can be the unsung hero of an appetizer or sidecar adding texture to your chili or soup but today we are making it the star. What goes with it must be a strong supporting cast member.
Three years ago I finally made them myself. The humble saltine but better. I call them saltines for grown ups.
They are flaky, tender crisp and flavorful.
Make your own saltines
The goods:
2 Tbsp cold butter cut into cubes
1/4 cup rye or whole wheat flour
3/4 cup all purpose flour
1 tsp baking powder
1 tsp sea salt, fine
1/4 tsp dried rosemary
1/8 tsp black pepper
1 tsp sugar
ice water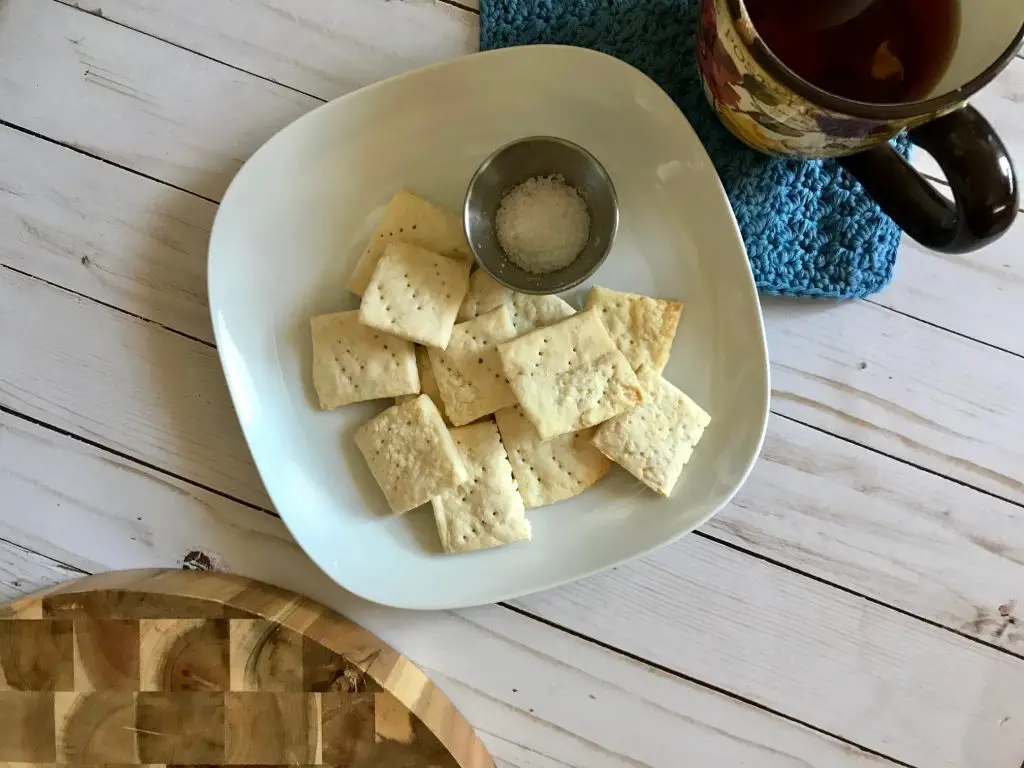 Tools: rollling pin, food processor, pizza cutter or sharp knife, toothpick or fork to dock dough if desired, parchment paper, baking sheet, no lint towel.
If you have a small sized food processor this is a great time to use it. I have this one and use it quite a bit. It's the perfect size for small jobs like this.
Combine the flours, salt, sugar, baking powder, rosemary and pepper in the bowl of a food processor. Pulse a few times to blend. Add the butter and pulse about 10 times, until the flour resembles a coarse meal. Add 1/3 cup cold water, and pulse until it forms a shaggy dough.
2. Lightly flour a counter or cutting board. Scrape the dough onto the counter, and knead a few times to form a smooth dough. Cover with a clean no lint kitchen towel, and let rest for 15 minutes in the fridge while the flour hydrates.
While the dough chills prepare you pan with parchment paper and preheat the oven to 375.
3. Roll dough out into a 1/8-inch thick sheet. Using a pizza roller or sharp knife cut dough into even squares the size of your choice. Maybe try those giant statement crackers I mentioned above or a traditional 2" size.
You can re-roll the scraps once without them becoming tough. Place the cutouts on the prepared pan. Use a skewer or fork to prick little marks in the top- or a single center prick.  Sprinkle lightly with some salt flakes.
4. Bake until the crackers are barely golden around the edges, 14 to 15 minutes. Remove from oven and let cool completely. Store crackers in an airtight tin for up to 1 week.
Live Chill Life is a participant in the Amazon Services LLC Associates Program, an affiliate advertising program designed to provide a means for sites to earn advertising fees by advertising and linking to Amazon.com