We may earn money or products from the companies mentioned in this post. See the Affiliates and Disclosures page for more information.
Crochet hat with brim pattern
Looking for a stylish crochet hat with a touch of feminine flair? This could be your answer!
For this pattern feel free to use your favorite yarn just watch the measurements listed within the pattern instructions so it will get you the same or very similar result. A helpful video is included. (see bottom of page)
I used Big Twist soft yarn for this crochet hat with brim combined with an 8 mm hook which gives a very chunky yarn stitch appearance. Some category 4 yarns are thicker than others.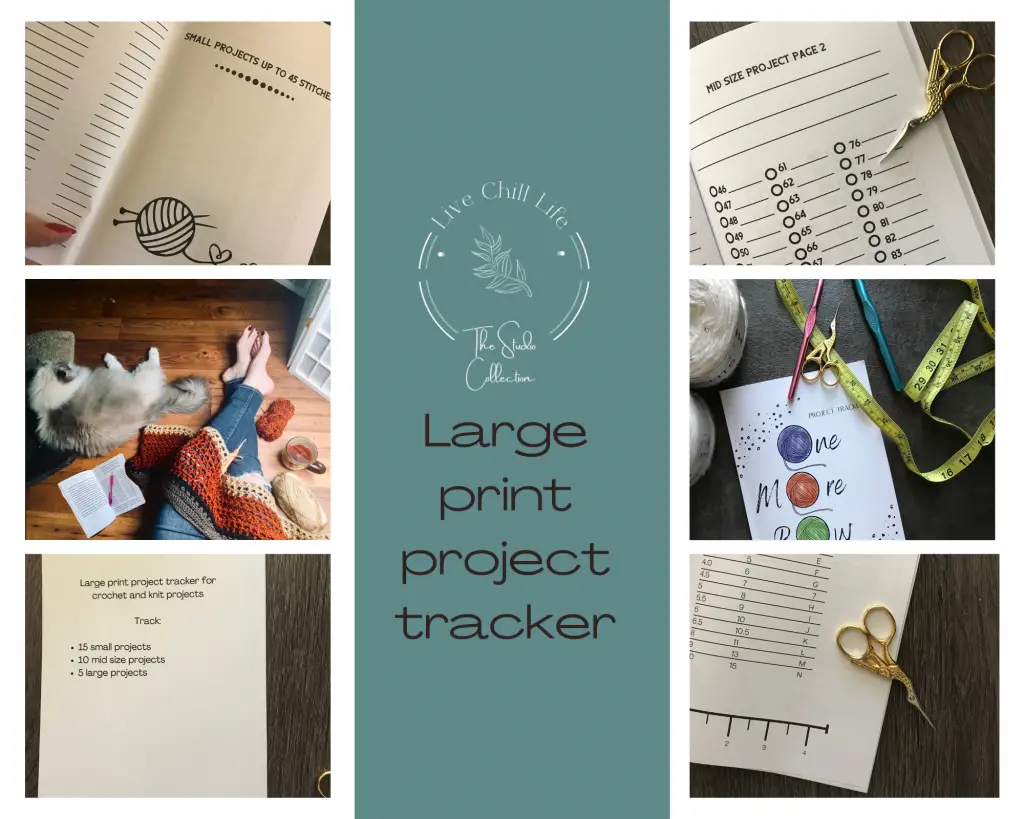 I designed knit and crochet project trackers! Keep track of your cardigan pattern with this tracker.
This is the large print version for tired eyes. So much easier than using apps, scraps of paper or a plain notebook.
Three project sizes, a handy ruler and hook guide inside the cover and plenty of room for notes in each pattern.
Buy the  Large print project tracker.
Buy the regular size print project tracker.
I have had bad eyesight since age 18 so large print is a godsend when you can't see apps and dark yarn, let alone going from one to the other on a crochet-a-thon during a Netflix binge.
Matching scarf pattern here.
Free crochet hat pattern
The tools:
186 yards category 4 yarn (shown in sample Big Twist soft yarn in the color Violet) this is a thick category 4 yarn
7 and 8 mm hooks (or two sizes one size apart to get the gauge you like) . I am using these crochet hooks.
2 decorative buttons
tapestry needle
measuring tape
scissors
Gauge as shown: 4″ = 13 rows
4″ = 11 stitches across
Stitches used:
sc = single crochet
special sc = start the sc stitch, pull a loop through first loop, pick up another loop and pull through the two loops on hook (works like a double crochet without a yarn over- see video). keep the end stitch tight or it will look like a hole in your finished piece.
You will work the stitch sequence into a rectangle until your piece measures 22″ x 9″ or the right circumference to go around your head without being too loose or too tight.
Make it:
Chain 25 sts (or enough to get a 9 – 9.5″ length once first row is worked). You may have to play around with your hook size and yarn to get it to this length.
Row 1: In second chain from hook, sc across row. Ch 1, turn. 24 sts
Row 2: In first stitch work a special sc and continue special sc across row. Ch 1, turn.
Repeat row 1 & 2 until piece reaches 22″ inches or correct length to fit around the head.
Small adult is 21″
Average adult is 22″
Large adult is 23″
You may also like this free hat pattern: ribbed crochet hat.
Begin finishing steps of crochet hat
Slip stitch the short ends together to make a tube shape (see video).
Next work one end into a close by using a tapestry needle and yarn, weave in and out pulling snuggly between stitches so the gathers begin to form. Then make a second pass using stitches placed 1- 1/2″ apart to total 5 or 6 to really tighten up the opening. Flip wrong side out and make final back and forth stitch to seal up the small remaining opening. Pull very snug, secure yarn and cut end.
Crochet hat brim
Switch to one size smaller hook.
Attach yarn to opposite end and work a single crochet around, slip to join and chain 1. Sc around a second time. I worked 63 stitches around for the 22″ rectangle width. Slip to join end of round.
Mark stitches for brim. Mark stitches so that 22-24 of the stitches are where you want the back of your hat to be (this will fall in the 22-24 stitch range depending how wide around you are making your hat). The brim should start just behind your years. The marked stitches will be the ones that are unworked from marker to marker at the back of the head. See image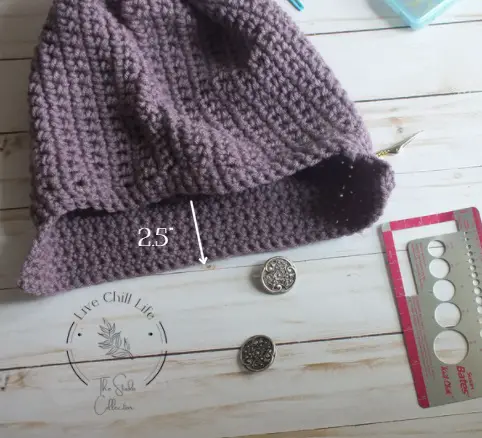 Begin working sc in remaining stitches. You are no longer working in the round. Ch 1 and turn working into the first stitch as you work back and forth instead of in the round. Repeat this until your brim measures 2.5″.
Attach buttons as shown in photo. If your top corners are bending you may want to tack them down with thread if the button does not secure them enough to your taste.