Ads allow content creators to provide free useful and compelling content to the public. We may earn money or products from the companies mentioned in this post. See the Affiliates and Disclosures page in the top menu of this website for detailed information.
Crochet crossbody bag and matching sunglass case
One of the best things about a crochet crossbody bag pattern is that you can make a hands free option to carry your things while looking smart and stylish. Touches like hardware and a footed base give this a lot of designer style without the expense of a designer bag. Plus it is uniquely yours.
Make mine topaz crochet crossbody bag pattern is all beginner friendly stitches. Tutorials for the woven strap, invisible knot tassel and how to use and install bag hardware are included in the video instructions.
Table of Contents
More about this crochet crossbody bag pattern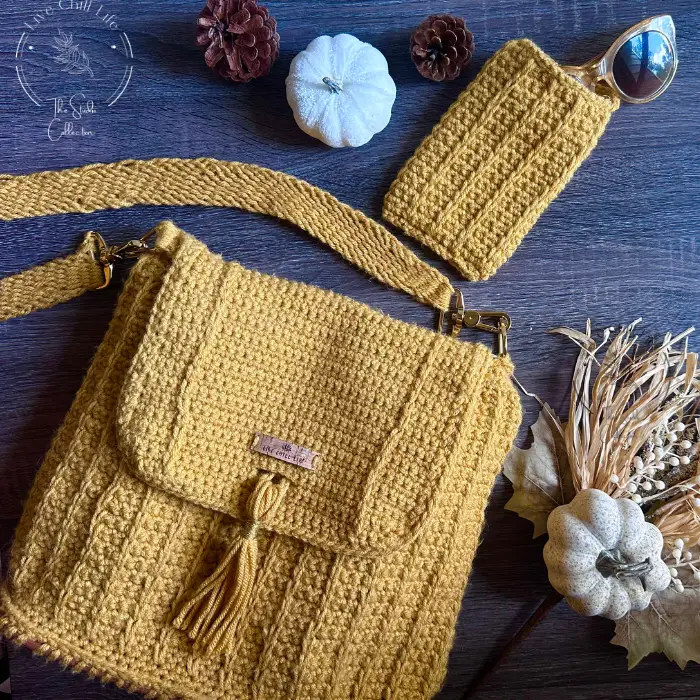 The crochet crossbody bag is a generous size and you customize the strap to suit your frame. Sturdy base allows you to pack it full and keep your hands free while on the go in style. The generous size will hold a water bottle, light sweater or scarf along with your bag essential.
Fashionable design is classic yet modern. A sturdy base will keep you confident the bag will not sag or allow contents to slip out.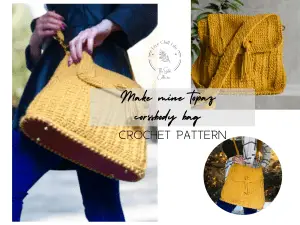 Crochet cross body bag pattern
This pattern uses category 4 yarn. Cotton yarn is recommended but other types of sturdy yarn that will not pill can be used. The body is a series of variations of single crochet stitches that make it beginner friendly. The main section is worked in the round so there are no seams to break the textured pattern keeping the columns perfectly symmetrical all the way around.
The bag looks great from every angle. The finished size is approximately 11″ high x 12″ wide.
Gold embroidery floss is used to make the tassel blend in with the gold hardware. How to make a tassel with an invisible knot is shown in this video tutorial.
The bag flap has additional braid detail to match the body of the crochet bag.
The woven strap doesn't give a lot of stretch (as long as you don't go too large with your hook) and you can customize the length so your crossbody crochet bag fits your frame perfectly. I love a hands free bag and was the impetus for creating this . I am 5'11 and often find cross body straps aren't long enough!
Also included is instructions to make a matching sunglasses case in two sizes.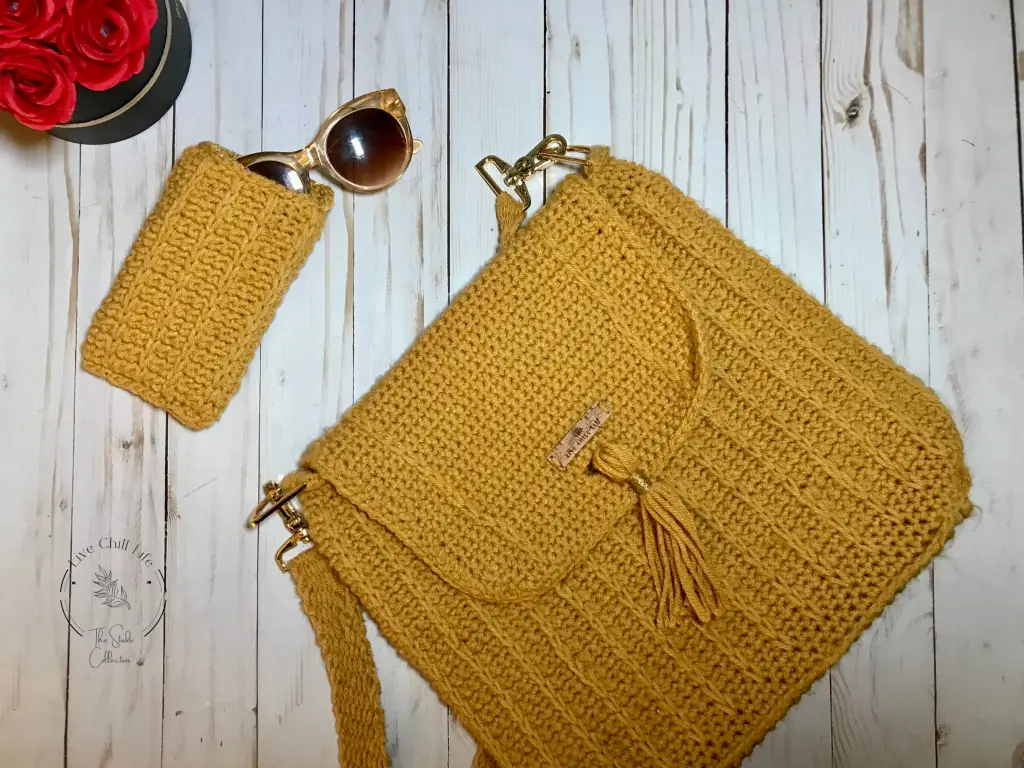 See how to make a no stretch woven style crochet strap in the video tutorial.
Another option is the thermal stitch strap seen here.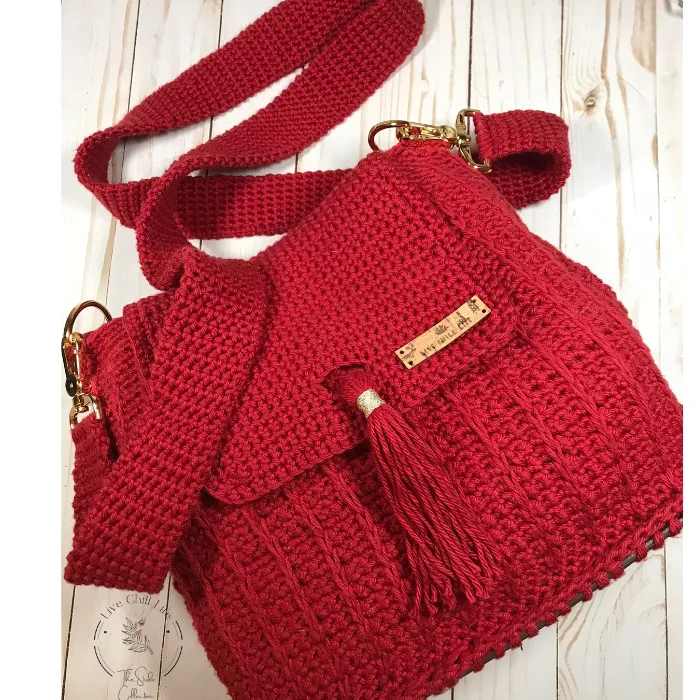 Confused by yarn labels? Get the yarn labels 101 information here.
Supplies to make the crochet cross body bag
To make this bag you will need three sizes of crochet hooks, 6 mm, 5 mm and 4.5mm. An inexpensive bag base (or you can opt to crochet one of the same size), handle hardware or you may opt to crochet a handle directly into the top of the bag (the pattern tells you were to add this), a ruler, a stitch marker, gold embroidery floss, category 4 yarn in cotton or crochet cord.
I use a funny little hack to keep yarn secure in the base of the bag because for this design working from the bag base up isn't possible. I use a rubber washer that will keep the yarn secure and not push through premade holes in the leather base.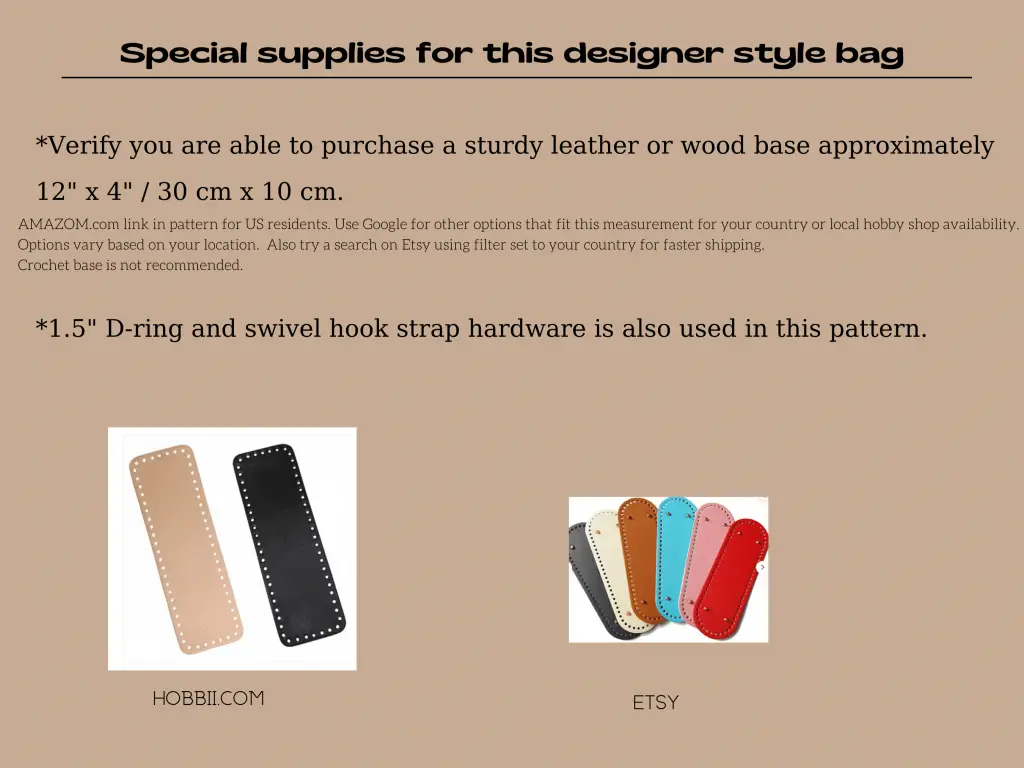 Link to purchase the Make Mine Topaz Crochet Crossbody bag pattern.