Ads allow content creators to provide free useful and compelling content to the public. We may earn money or products from the companies mentioned in this post. See the Affiliates and Disclosures page in the top menu of this website for detailed information.
I have written about gratitude in several posts already but I want this post to focus on how to use the practice to help you with your goal or goals.
You may be familiar with gratitude challenges that give a suggestion of an area of life to be grateful for that day. It's helpful when your mind is drowning in thoughts of a chaotic day and you need a point of focus to get you back on your path quickly.
How about a gratitude challenge around what you are really excited to create in your life. Even if it feels so big you have a little doubt. We know anything honestly is possible but it is human to doubt.
You may like: How to Reinvent yourself at any age
I designed a guided goal journal to help get those goals faster. The daily goal worksheets put you in an empowered mindset with do goals that make things happen quickly. See the goal journal here and get those achievable goals faster.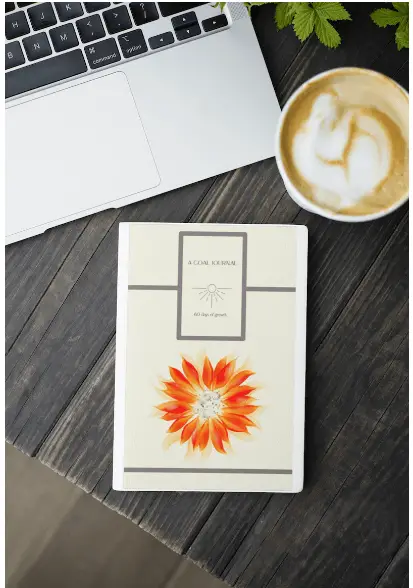 Hello mindset, nice to meet you
In this post called Tiny Habits, Better Life I talked about how to get your goal and a morning mindset process to empower you no matter where you're at in the process of achieving it. Let's look at how something similar can be used for gratitude and your goal(s).
Write your goal in the journal you will be using.
Each day when you're writing in it think about what you're grateful for that is helping you achieve your goal.
For instance:
Supercharge your goals with gratitude and a night time ritual
Using the Daily Examen Prayer is a terriffic way to keep your mindset on gratitude and your goal before bed. It has the added benefit of connecting you with a higher power and asking the higher power to propel you forward and guide you to the best paths to achieve what you desire.
Here's how to use it:
Get your mind into the awareness of the presence of a higher power. Use whichever belief system that resonates with you. Perhaps you become still and feel your guide(s) wrap their spiritual wings around you and you surrender to the comfort. Perhaps you prefer, "be still and know that I am God." This is the important first step of this prayer process.
Reflect on your day and note the points which the higher power was with you. Even if you had challenges during the day you got through them. How did the higher power help? The moments of joy like a cuddle with your pet, a tasty meal, the bloom of a flower, the sound of music, the love for or from another, fresh safe water, a big or small success you achieved. Be thankful to the higher power for these blessings.
Examine your day with critical thinking. This is a post mortem of your day. A post-mortem analysis is a process where you summarize what went wrong as well as what went well and should be repeated. How did you handle situations? Could you have made better choices? Reacted in a more tempered way? This deep reflection is a powerful learning tool.
Chose the part of your post mortem that needs improvement, especially as it relates to your goal. This is likely an area the higher power wants you to improve and is happy to help you, all you need to do is ask (pray). Ask for the guidance you need to do and be better in this area tomorrow and going forward.
Pray for tomorrow. Ask to be guided tomorrow leading you to your goal. Pray for wisdom, opportunities to learn, to be guided to a path or resources. Not only will you be guided to your goal but also to anything else that will improve the problematic behavior identified in your post mortem.
As you continue to do this process daily, you will see when you reflect that it is working and the higher power is with you, guiding you.
You may also like to read the honest downside of achieving goals.