Ads allow content creators to provide free useful and compelling content to the public. We may earn money or products from the companies mentioned in this post. See the Affiliates and Disclosures page in the top menu of this website for detailed information.
What is a mala and how do you use it?
A mala is a powerful tool used in devotional practices and meditation. It is similar to a rosary and can take various forms, such as bead bracelets or necklaces made of small gemstone beads. The purpose of a mala is to aid in concentration and mindfulness during spiritual practices.
The beads on a mala are typically made of gemstones, wood, or seeds, each carrying its own unique energy and symbolism. The mala is traditionally made up of 108 beads, which is a sacred number in many spiritual traditions. The number 108 is believed to represent the universe, with 1 representing the divine, 0 representing emptiness or completeness, and 8 representing infinity or eternity.
Using a mala involves a simple yet profound practice. The practitioner holds the mala in their hand and begins to recite a mantra or affirmation, moving their fingers along each bead as they repeat the chosen words. This rhythmic movement helps to focus the mind and bring about a sense of calm and clarity.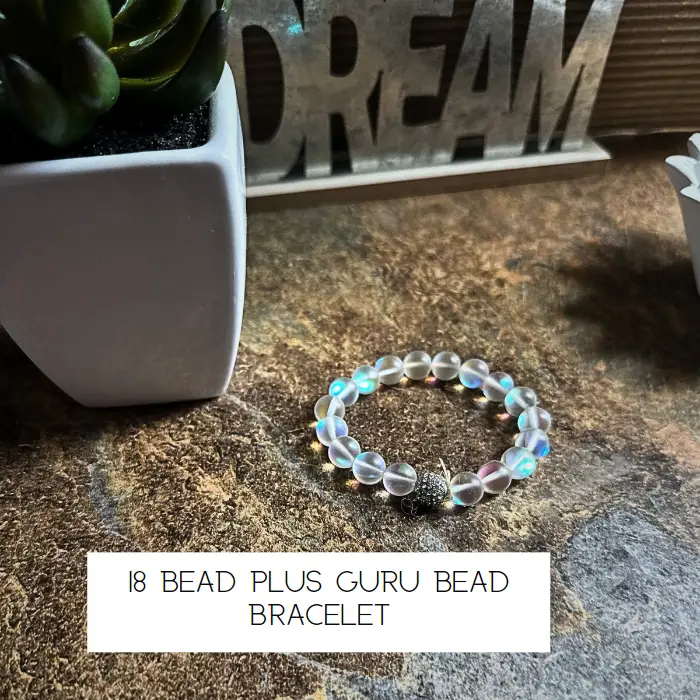 In addition to its use in meditation, a mala can also be worn as a reminder of one's spiritual intentions throughout the day. By wearing a mala, one can carry the energy and intention of their practice with them, allowing it to permeate all aspects of their life.
Whether you are new to spiritual practices or have been on a spiritual journey for some time, incorporating a mala into your practice can deepen your connection to yourself and the divine. It serves as a tangible reminder of your intentions and a tool to cultivate mindfulness and gratitude in your daily life.
Table of Contents
Using mala for a gratitude practice
Using a mala for your gratitude practice can take your daily routine to a whole new level. If you've already been writing down your gratitude every day, incorporating a mala into your practice can enhance the experience. Personally, I prefer using a mala bracelet with 18 beads plus the guru bead, like my moonstone bracelet.
The beauty of using a mala is that it eliminates visual distractions when you close your eyes. By holding the mala and moving your finger over each bead as you speak your gratitude for each thought, you can deeply focus on the practice. This method creates a strong sense of connection to what you're doing.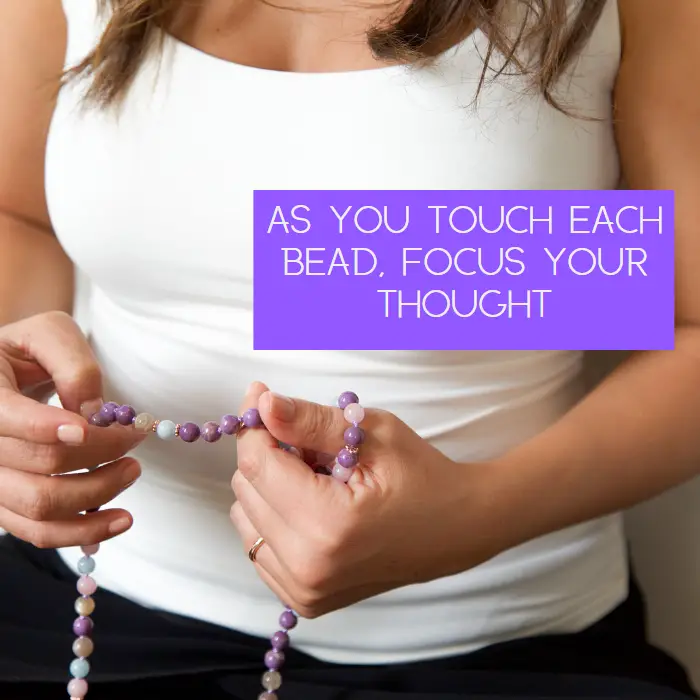 As you move from one bead to the next, you can feel the energy and intention behind each gratitude statement. The process becomes meditative, allowing you to stay fully present in the moment. You'll know you've completed your practice when you reach the guru bead, either by finishing the circle or reaching the end of the 108 bead necklace. The best part is that you don't need to open your eyes throughout this entire meditative process.
Using a mala for your gratitude practice adds a tactile and spiritual element to your routine, helping you cultivate a deeper sense of gratitude and mindfulness in your daily life.
How to use gratitude to get your goals faster.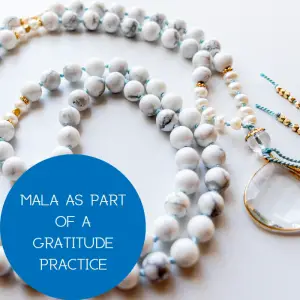 How to practice gratitude and mindfulness
If you have days where you draw a blank you can use your mala to chant one single mantra as you go around from start to finish. Quieting your mind is enormously beneficial whether gratitude results from it or not.
You can focus your gratitude on a specific area of your life and challenge yourself to all the ways you appreciate that area.
Let's look at some examples:
Your body, consider all the ways your body allows you to move through life and how it makes life possible.
Your family, how your relationships enrich your life.
Your business, ideas, resources to learn new things, marketing, relationships you've built because of your business, fulfillment.
Your home, feeling safe, your access to running water, temperature control, food storage and preparation, the comfort of furniture, clothing, and electronics.
A hobby or talent you have and cultivate.
Pets and how they impact your joy.
The many ways nature enhances your life and the world around you.
Appreciation for the divine.
Why a dowsing tool is the #1 thing you need in your spiritual practice.
Building gratitude to impact all areas of your life with a mala
Challenge yourself to be expansive with your gratitude practice so it is filling every area of your life you want to build or maintain. Changing how you see things, even the challenging things will improve your life in countless ways.
One way to build on this idea is each day of the week focus on a single area of life and do your mala gratitude session focused only on that. Try not to repeat any statement to really push yourself to find even what are the seemingly smallest things. If you are in a desert even the smallest drop of rain is a big deal.
You brain likes to work. Ask it to help you on this. "How can I see more blessings around me?" It won't take long until you have the answers in front of you. It's a great exercise. I use it for all sorts of things when I feel stuck with work, ideas, etc.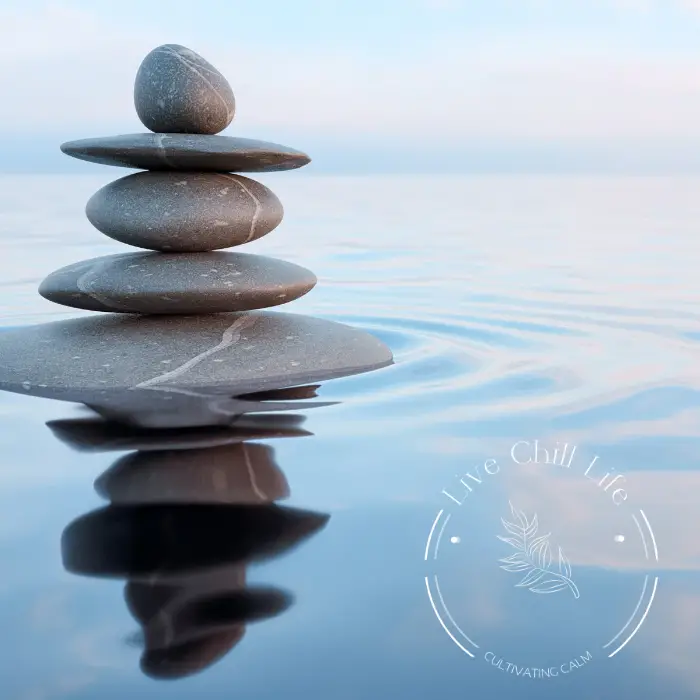 By using your mala beads to cultivate gratitude in different areas of your life, you are training your mind to focus on the positive aspects of each area. This practice helps to shift your perspective and allows you to see the blessings and opportunities that may have been overlooked before. Whether it's gratitude for your relationships, career, health, or personal growth, dedicating a mala session to each area allows you to fully immerse yourself in the practice and deepen your sense of appreciation.
See this post on how to meditate when you can't
As you continue this practice, you will start to notice a positive impact in all areas of your life. Your relationships may become more harmonious, your career may flourish, your health may improve, and your personal growth may accelerate. The power of gratitude is truly transformative, and by using your mala beads as a tool, you can harness this power and create a ripple effect of positivity in your life.
So, take the time to build gratitude in all areas of your life with your mala beads. Embrace the practice of focusing on one area each day and allow yourself to truly feel the gratitude for all the blessings that surround you. With consistent practice, you will cultivate a mindset of abundance and attract even more blessings into your life.
How to use mala beads for anxiety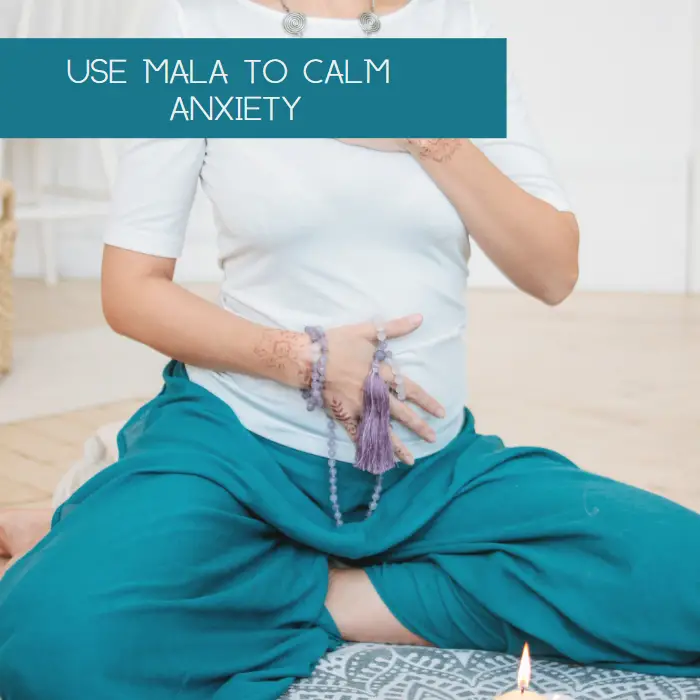 To effectively use mala beads for anxiety, you can combine the methods mentioned earlier with positive affirmations that specifically address the sources of your anxiety. By shifting your mindset and focusing on positive statements, you can help calm your mind and alleviate anxiety.
For example, if you're experiencing anxiety related to your health, you can use the following affirmation: "I am actively working to repair my ailment." By repeating this affirmation while using your mala beads, you are reinforcing the belief that you are taking proactive steps towards improving your health, which can help alleviate anxiety.
Similarly, if you're anxious about social situations, you can use the affirmation: "I know most people are kind and will welcome meeting new people." Additionally, you can add a quality that you value in yourself, such as: "They will enjoy my sense of humor," "They will appreciate how caring I am," or "They will be interested in the stories I have to tell." By incorporating these positive affirmations into your mala bead practice, you are reinforcing positive beliefs about yourself and the outcome of social interactions, which can help reduce anxiety.
Remember to hold your mala beads in your hand and move your fingers along each bead as you repeat your chosen affirmations. This rhythmic movement, combined with the power of positive affirmations, can help calm your mind, shift your perspective, and alleviate anxiety.
Once you start your mind will lead you to the right thoughts which will further expand your practice. It's a wonderful way to both start and end each day.