We may earn money or products from the companies mentioned in this post. See the Affiliates and Disclosures page for more information.
A glamorous crochet cardigan with bell sleeves and detachable faux fur collar! This statement piece works up fast. A full video tutorial is included to help you get stitches right, the bell sleeve taper and flare as well as many ways to attach the detachable fur collar for easy garment washing. No guesswork. I've got you covered.
One of many appealing features is this cardigan will not lose it's shape or sag. A rarity in the world of crochet cardigans. Designed to fit the body with options for a bit more ease is included.
The ribbing is a vertical stitch as covered in this post series on ribbed stitches. It holds its shape and doesn't stretch so you can be sure of a sleek lasting fit.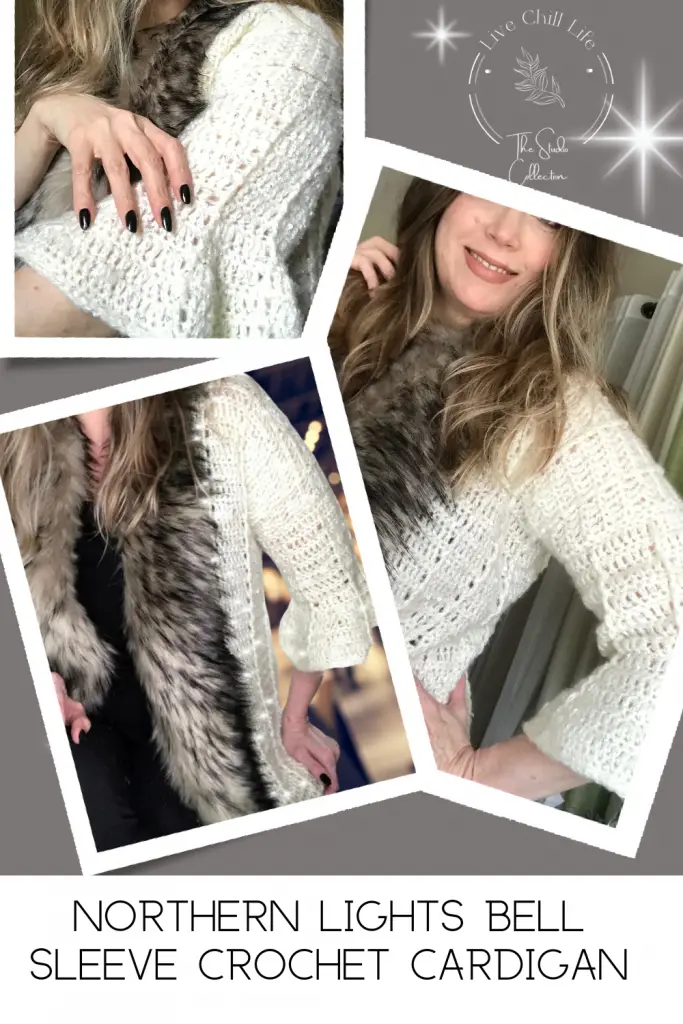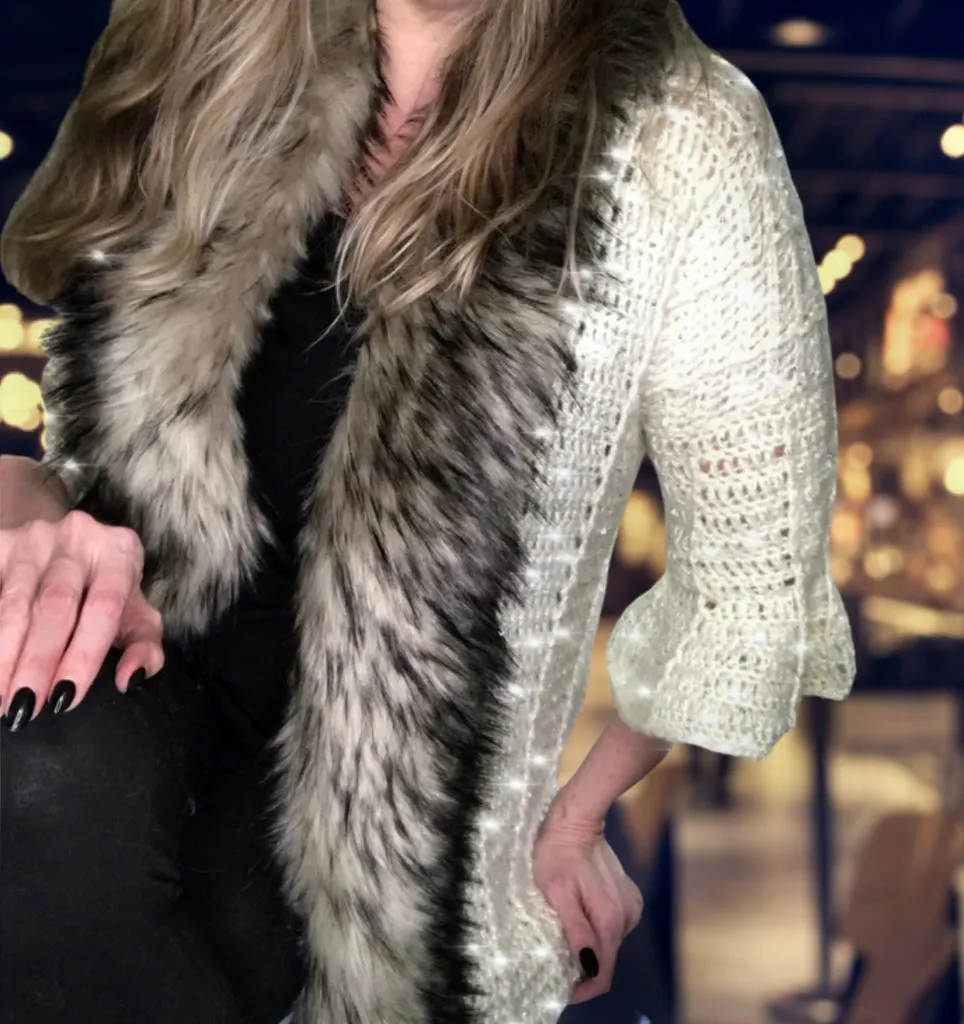 The ribbing is thoughtfully placed by size so proportion is flattering to your height and build.
Fun color combo ideas here (I have links to the different fur trims that are very affordable)
Pattern sizes:
Size 1 – 34 "
Size 2 – 42" 
Size 3 – 48"
Size 4 – 56" 
Size 5 – 64
You may also like the elegant drape of the summer mesh cardigan here.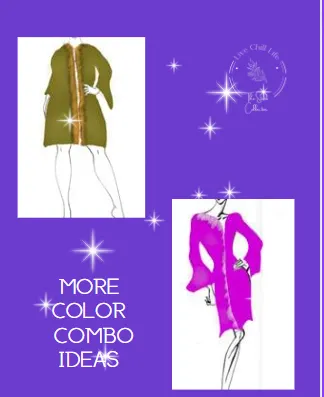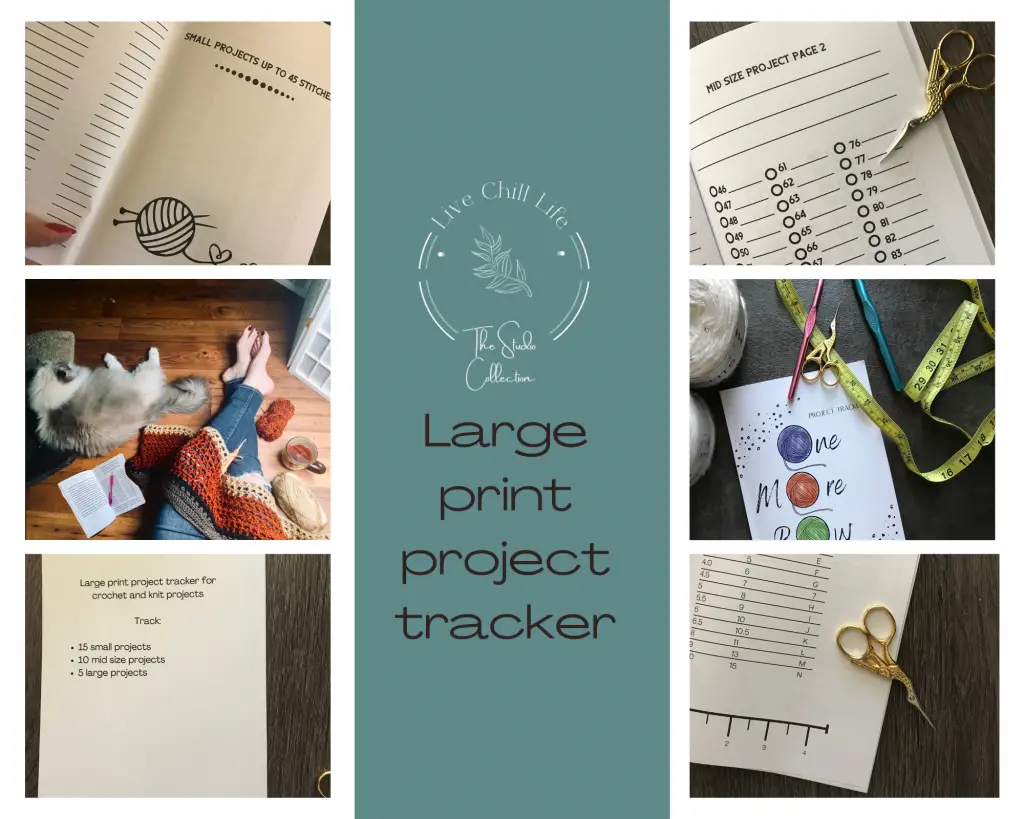 I designed knit and crochet project trackers! Keep track of your cardigan pattern with this tracker.
This is the large print version for tired eyes. So much easier than using apps, scraps of paper or a plain notebook.
Three project sizes, a handy ruler and hook guide inside the cover and plenty of room for notes in each pattern.
Buy the  Large print project tracker.
Buy the regular size print project tracker.
I have had bad eyesight since age 18 so large print is a godsend when you can't see apps and dark yarn, let alone going from one to the other on a crochet-a-thon during a Netflix binge.
Tools needed for this experienced beginner friendly pattern
Category 4 yarn
7.0 or 6.5 mm hook to achieve gauge
optional faux fur trim (under $20 link included available in many colors)
tapestry needle
measuring tape
scissors
Simple supplies to attach removable fur (3 methods covered in pattern- you pick which is best for you)