Ads allow content creators to provide free useful and compelling content to the public. We may earn money or products from the companies mentioned in this post. See the Affiliates and Disclosures page in the top menu of this website for detailed information.
Tired of oats with (peanut butter, raisins, berries, maple, whatever-you-put-on it)? Oatmeal is my favorite and not the slimy overnight type but honest to goodness cooked stovetop oats that take a few minutes. I have ventured away from time to time just to mix it up and have found some really tasty bowls that (almost) rival my beloved bowl of oats. In some cases switch up how I think of eating oats.
Often bowls are more like lunch or dinner and get called breakfast bowls because there is an egg perched on top. Fair enough. Breakfast for dinner is a thing after all. There are no rules around what to eat when and for the curious open minded eater I have some ideas for you, my friend. You are in good company here.
Let me tell you about them.
Savory Spanish Oatmeal bowl
Flavorful ingredients like chorizo, roasted peppers, smoked paprika and almonds come together for a satisfying dish.
If you're open to having oatmeal in a savory way this could be the bowl for you. The author using Spanish culinary flavors combined to make this delicious bowl.
Get the recipe savory spanish breakfast oatmeal.
Savory quinoa breakfast bowl
Savory breakfast porridge with miso, salmon and avocado
This bowlful of goodness is for the adventuresome eater. Nothing boring about it with miso, smoked salmon, tzatziki, and hazelnuts.
Big on flavor and texture will make you forget mushy oatmeal of your youth. The crunch of nuts is calling out to me!
Get the recipe from I'm in the mood for food savory porridge with miso salmon.
Turkish egg and quinoa bowl
This list is making us quite the culinary world traveler with the addition of Turkish flavors this bowl has.
Tasty adds ins like yogurt, dill, sesame, and sun dried tomato pesto your bowl of quinoa will be anything but boring.
Get the recipe from half baked harvest turkish egg and quiona bowl.
Nourishing sweet potato bowl
Bonus bowl here. It's not hella sweet it is flavor packed and I can't stop making it!
This bowl is full of flavor and texture! Once you get all the mix ins you can make many many bowls and the sweet potato base can be prepped to eat all week. Just heat up a portion and top. done!
Seasoned with cinnamon, turmeric, ginger, black pepper, tahini and more makes the base high in flavor. Then top with nuts, greek yogurt, maple syrup and coconut and you will be addicted. I veered from the recipe and also add cardamom because I can't help myself with cardamom. Either way it's very cravable!
get the recipe from Kayla Chandler nourishing sweet potato breakfast bowl.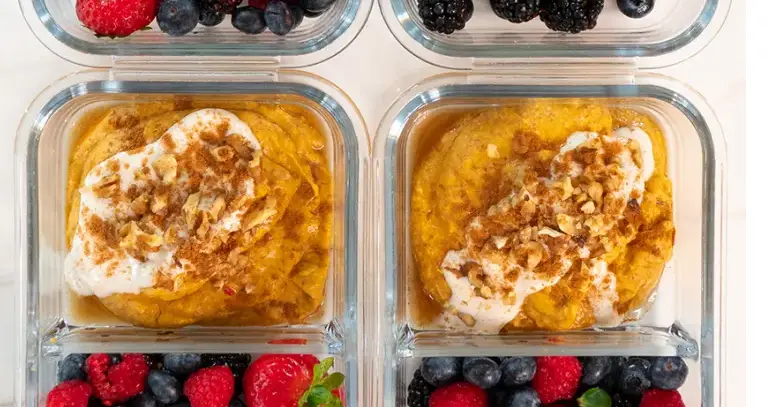 If you are interested in historical recipes and some food history check out my cooking channel, Cooking 100 year old recipes.