Ads allow content creators to provide free useful and compelling content to the public. We may earn money or products from the companies mentioned in this post. See the Affiliates and Disclosures page in the top menu of this website for detailed information.
Gnats in the house remedy
The past three summers gnats in my home has been a problem. Especially the ones that bite! In this post I will tell you exactly how I got rid of gnats in my home.
Even just one can ruin your relaxation time or work at home hours. After identifying the source and some trial and error I have some pet friendly methods to control them.
Table of Contents
How do gnats get into your home
I have no plants in my home and I don't keep fruit out in the open so where are they coming from? The answer is twofold.
#1. They come in from outside. They are outside my front door in my building. Every time I open it one or two will fly in and there is no way around that. Adults come in and if they don't get into one of my traps they breed. The trash can seems to be a culprit if not THE culprit.
#2. Hatching in my home. Then they turn into no-seeums.
They interrupt day to day constantly. In the hot summer having to wear long pants, long sleeves and a face covering like this during waking hours is awful. It impacts me working out (as I tend to skip workouts if I can't be in fitness wear) .
This is war, and war means you set up the troops on several fronts to defeat the enemy
How to get rid of gnats in your home step by step
Essential oil is a good insect repellent
Tip 1: Putting 4-5 drops of lavender essential oil or tea tree oil in your body lotion after you dispense it into your hand is a good hack to keep them from biting and that allowed me to resume wearing summer clothing inside. It only lasts 2-3 hours but it's very effective in that window.
You can make your own mist but it will dissipate quickly because it is water based therefor it evaporates. Oil is better. Put the essential oil in some body oil or as mentioned above , a lotion that has petroleum or oil near the top of the ingredients so it sits on your skin surface longer.
Lavender oil has worked extremely effectively for me.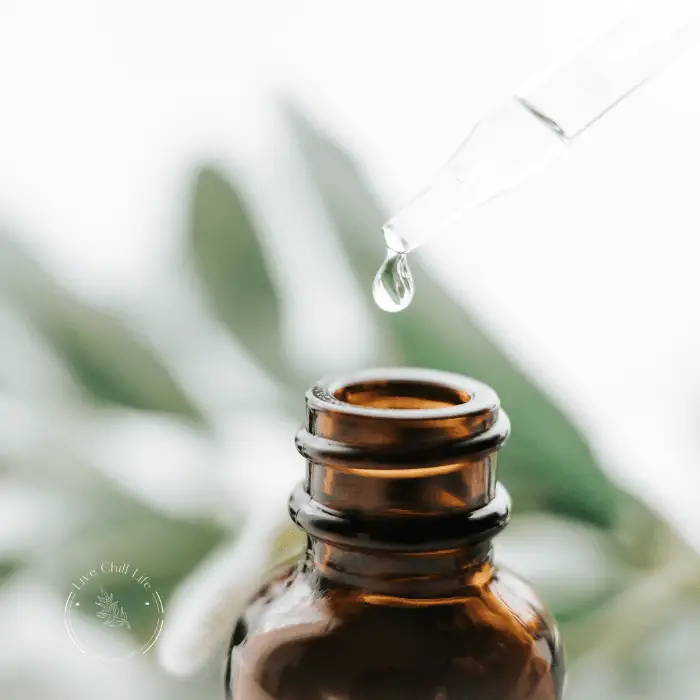 Make your drains unappealing to flies
Tip 2: Putting bleach in your drains at night and if your washing machine has a bit of standing water in it put a bit of bleach in there. (portable machines tend to hold water by design)
Vinegar trap for fruit flies and gnats
Tip 3: Vinegar traps work great. They really do! Apple cider vinegar (use the inexpensive kind not the Braggs'), a drop of liquid soap and a teaspoon of sugar in a bowl. Put plastic wrap over it and poke a few small holes in it. They work their way into the trap very easily. I notice only the adults go into the vinegar. It doesn't help the noseeums. The noseeums will be handled with tip #4.
LED mosquito and bug trap
Tip 4: The LED fan. It only works when it's dark so put it on at night when your home is dark. No sleeping with lights or tv on, no nightlights. That should be the only light so it is their only option. It wasn't unusual for me to wake up with 4-10 new gnats in it. Bonus of moths and mosquitos would turn up in it too (now and then a baby roach would end up in there). I have this one: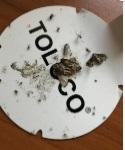 This trap only works when it's dark so turn it on at night when you go to bed and all lights are out. You can see it has moths that I didn't even know I had!
Trash can bait trap for bugs
Tip 5: This little stick on for the inside of your trash can from Terro is VERY effective at keeping the bugs away from your trash can. It has a slight insecticide scent. Once I started using it I saw zero of the biting gnat type bugs in my can.
If you employ all five of these tips it will help you tolerate bug season a bit better. Sadly insects tend to win in life but we can make coexisting with them in our own home a little better.