Ads allow content creators to provide free useful and compelling content to the public. We may earn money or products from the companies mentioned in this post. See the Affiliates and Disclosures page in the top menu of this website for detailed information.
Too much of a good thing yesterday or last night and your clothes are tight, fingers and feet feel the pudge? Tight ring sitting on your finger? Eyes looking puffy? Do you want to get rid of bloating now? Read on for how to get rid of excess water retention from overindulging.
My fixes for bloat never let me down. I keep all of them on hand so I am ready after a meal that isn't optimal for my body.
If you are pregnant, nursing, have low blood pressure or take medication for high blood pressure check with your physician to make sure some plants are safe for you to consume as they do impact your body the way medication can.
Butterfly peaflower tea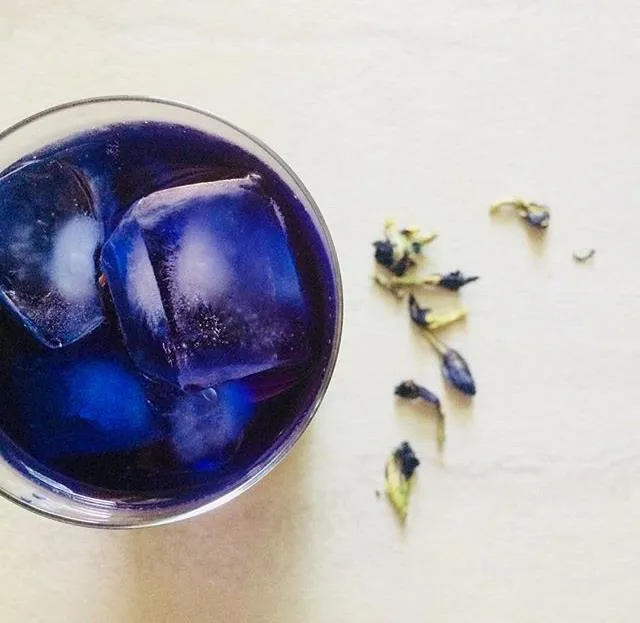 Peaflower tea is a gorgeous brilliant sapphire blue. It's dried flowers from the peaflower butterfly plant and while I initially bought it for the color years ago I realized soon after drinking my first glass that it is a natural diuretic.
How does it taste? The first time I described it to my friend watching me drinking it I said simply, "it tastes vegetal." It's not like anything else I've ever eaten or drank. It can be sweetened but I don't do that as it would only impeded the debloating effect and I don't mind the flavor.
You can add lemon which will change the color from blue to purple! This is the brand I have been buying since 2018.
Hibiscus beats bloat
If something tastier is more your speed a hibiscus tea blend will help you get rid of some of that excess water. Hibiscus tea is decidedly sour but blended just right it is delicious. The celestial seasonings zinger teas all have a hibiscus base, as does Tazo Such as the passion flavor. If you like Starbucks pink drink this is what is used as the base of that refreshing drink.
Celestial seasonings tangerine zinger is my favorite because of the juicy orange flavor good hot but cold is the one I make all summer.
Nettle leaf tea one of the most effective natural diuretics
When nettle is made into a tea it has a grassy flavor that gently reduces water retention. It can also help with vision improvement, lowering blood pressure and some reports say it helps to lower blood glucose levels.
Cucumber beats bloat
Cucumbers are more than just for your eye puff. If you slice some cucumbers into a jug of water and put it in the fridge before going to bed (the night you indulge) you will wake up to a great diuretic drink. Add a squeeze of lemon just before drinking (soaking lemons with the cucumbers can give an off flavor due to the white part of the lemon) and you will supercharge the water releasing effects.
I remember a spa I was out in California that had dispensers all over of cucumber water and I noticed that whole day I spent there I was releasing water every hour.
I have been using get clean tea for over 4 years now. I will not be without it. It does more than get rid of bloat, it also purifies the cleansing organs with herbs like milk thistle for the liver and dandelion root.
The addition of rooibos helps this be one of the more palatable teas I've had for cleansing.