Ads allow content creators to provide free useful and compelling content to the public. We may earn money or products from the companies mentioned in this post. See the Affiliates and Disclosures page in the top menu of this website for detailed information.
Skin needs change with age. Absolutely we should love and appreciate our skin all of our lives. Keeping it in good shape, soft and pliable helps make moving through life more comfortable. What you have been using may seem like an underperformer now. Dealing with fine lines (or full blown wrinkles), dryness and sunspots are taking over skin concerns. Lips and nails go through the wringer too! There are things you can do about it without breaking the bank.
Help for dry lips that really solves the problem
I have found two lip treatments that really heal and moisturize instead of just giving a temporary fix that lasts a day. Using the right one before bed is very helpful in giving a deep treatment while you sleep so keep a tube by the bed!
Admittedly one of these is spendy but gosh it works.
Simple Truth Organic Moisturizing Lip Balm. This is a Kroger brand. If you don't have a Kroger in your part of the country you can find them on Amazon. In stores it is under $5 per tube. The tube is wide and gives a more luxe feel than a standard chapstick or burt's bees size tube too.
Baume de Rose by Terry really comes to the rescue. Gentle rose scent, rich thick texture that bathes your dry lips in healing hydration. It has been a winter lifesaver for me for years.
Live Chill Life only recommends products personally recommended after trying and is a participant in the Amazon Services LLC Associates Program, an affiliate advertising program designed to provide a means for sites to earn advertising fees by advertising and linking to Amazon.com
Natural treatment for sunspots
This is one of those things I found works by accident! I make my own face oil blends and use them like a serum. One of the oils I had wasn't working so I got a new brand of it and within a month of 2x daily use my driver side sunspot was 50% lighter.
It is sea buckthorn oil. This is the brand I had such good results with. This oil is a vivid marigold color and will color your face until it's absorbed so you can't put it on in the morning if you have to put on makeup and go out within a few hours. At night put it on a few hours before bed and be careful as you work it down your neck and chest that you have on a dark top or an open neckline so it won't stain.
You could use it to spot treat if you don't want it all over your face as well.
Exfoliate without drying or harsh chemicals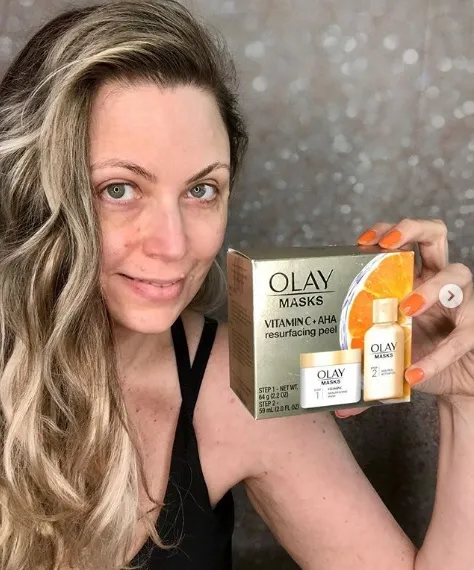 This duo is just the thing for blah, dull flaky skin (that is how I describe mine before I reach for this in my cabinet) that just lost its glow.
It gives instant results for that immediate gratification we all love– and smells like oranges to give an extra lift to your senses.
It gets a bit messy because it's a sugar scrub activated by oxygen foam so using it in the shower may be your best option but I do both sink and shower. Use it weekly. There are about 8-10 treatments per box.
Boost your current face and body care for added moisture
Keeping a pump bottle of jojoba oil on hand lets you boost your favorite face and body cream as well as nourish your nails. The pump makes it a no excuses add in. If you have to unscrew a top while you already have product in your hand you won't do it. Also it won't accidentally spill all over your bathroom.
Add a pump or two to your palm when you portion out your cream. It soaks in well and matches our skin oil. If you have been on this earth for 40-70 years you likely found at least two or three body and face creams you like and this little tweak can keep them working for you. No scent to interfere with what you already use or if you don't like scent in general.
I use this as the bulk of my nail oil blend base too. It pumps right into the applicator bottles (I add in vitamin E and avocado oil as well). If your nails are more brittle due to medication, treatment or hormonal changes I recommend keeping nail oil bottles everywhere. Car, bedside, on the coffee table, on your desk and in the kitchen. Oil them as much as possible. I also have a post on problem nail care here.
And lastly I want to mention foot care. Keeping your soles soft so they don't crack can be a problem. I have been loving a glass foot file. It works wet or dry and is more sanitary than all the other types of tools out there!