We may earn money or products from the companies mentioned in this post. See the Affiliates and Disclosures page for more information.
These little flavor giants are a nice addition to tea time, a cookie tray or just to have to snack on.
1/4 c. white granulated sugar
1 c. cold milk, whole is best
1 tsp sea salt
3 c. all purpose flour
2 1/2 tsp non aluminum baking powder
2 sticks (1 cup) cold unsalted butter
70% chocolate bar shaved into thin chards with a chef's knife, irregular is great to make the scone texture more interesting
zest of two oranges
1/3 c finely chopped pecans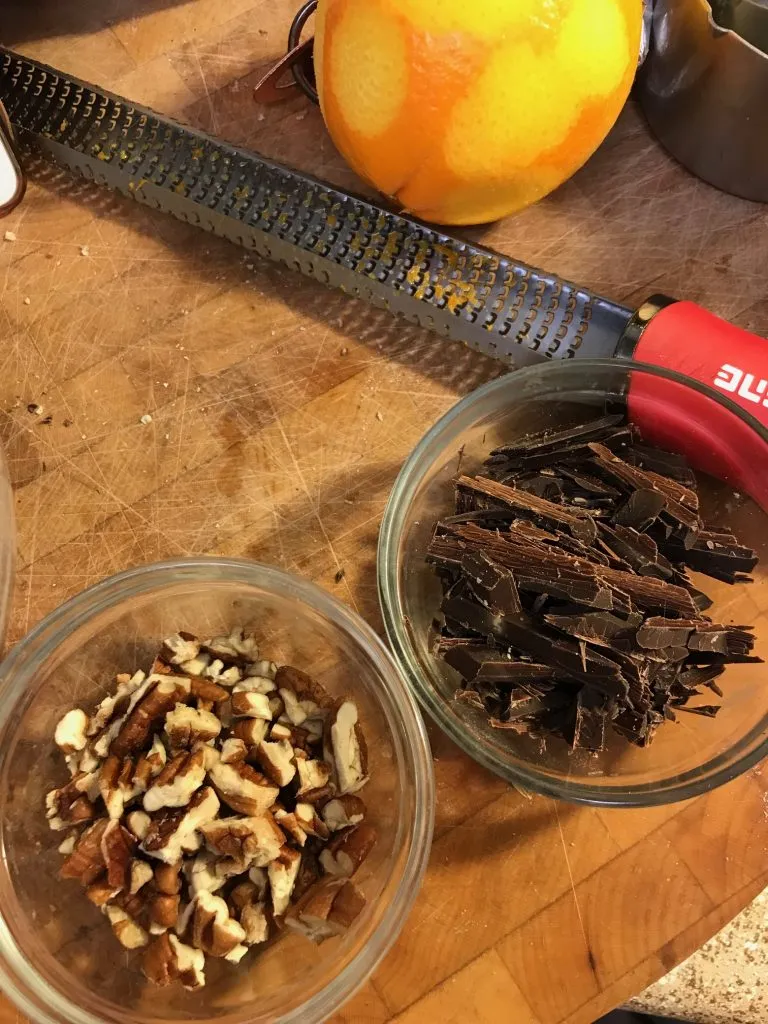 Equipment:
Rolling pin
Fluted or straight mini biscuit cutter
Baking sheet
Parchment paper
Makes 40-44 depending on the size of your cutter and how thick you roll the dough.
Get the oven ready by preheating to 375 F at least 20 minutes before you bake.  Line baking sheet with parchment paper.
Next:
Mix together milk, sugar, and sea salt in a medium bowl until sugar and salt dissolve. In a large bowl, whisk flour, orange zest and baking powder.  
Cut 10 Tbsp of the butter  into 1/2″ cubes, add to flour mixture, and blend with a pastry cutter or your fingertips (or pulse in a food processor) until pea-size pieces form with some larger chunks remaining. Add milk mixture and stir with a fork until large clumps form. Gently knead in the bowl until dough just comes together. Transfer to a lightly floured work surface.
Then:
With a lightly floured rolling pin, roll out dough to a 14×8″ rectangle, with long side facing you. In  a small, microwave-proof bowl melt the butter just barely in the microwave until softened but not melted, about 20 seconds.  Spread evenly over dough with fingertips, then sprinkle chocolate shavings and pecans evenly on top and press to secure to dough so it won't slide around in next step.
 Fold up bottom third of dough over center, then fold down top third to meet bottom edge, as if folding a letter. Fold in half crosswise, then, using a rolling pin, gently flatten into an 8×4″ rectangle.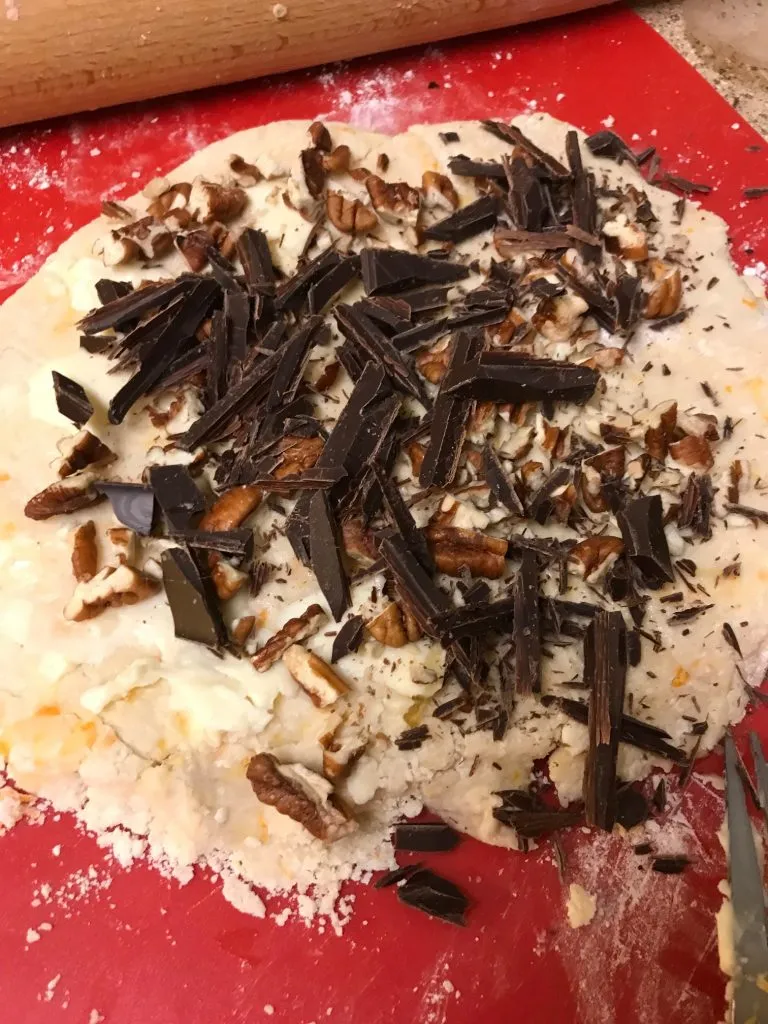 Shape dough and cut scones
Roll dough to 1/2″ thickness circular shape. Dip cutter into flour and press down hard to cut through dough and any hard bits of chocolate so you get very straight crisp sides that will rise well during baking. Very gentle rework scraps 1-2 times so they do not become tough.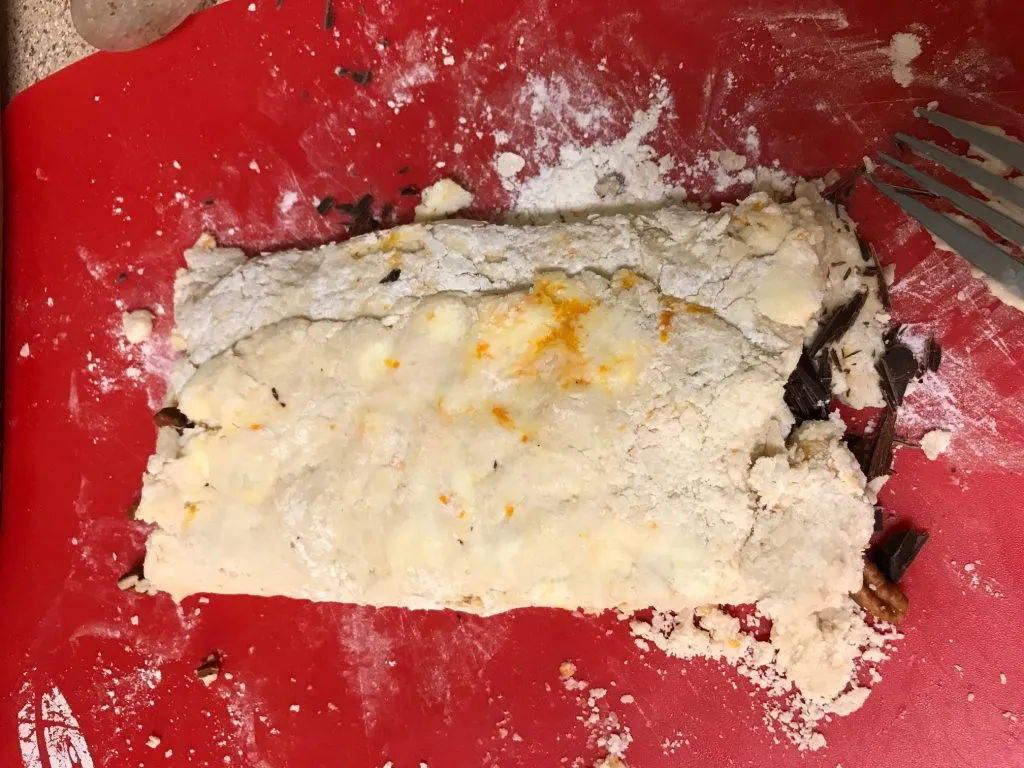 Bake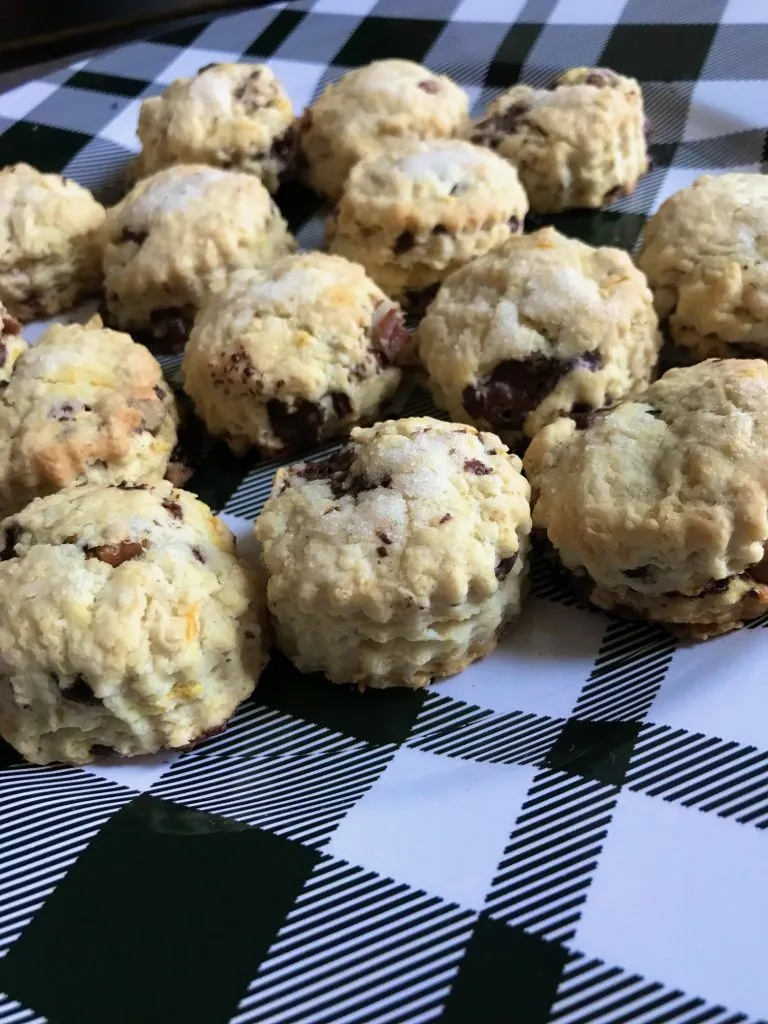 Bake until scones are golden brown, 20-25 minutes. Meanwhile, melt remaining 4 Tbsp. butter in a small saucepan over medium-low heat. As soon as the scones come out of the oven, lightly brush tops with clarified butter, leaving behind white solids in bottom of saucepan. Cool scones on sheet on a wire rack and serve hot, warm, or room temperature.