Ads allow content creators to provide free useful and compelling content to the public. We may earn money or products from the companies mentioned in this post. See the Affiliates and Disclosures page for more information.
If you're on a tight budget this holiday and still want to enjoy the favorite flavors of a traditional thanksgiving meal worry not. Traveling costs can stress a tight budget so staying home and making your own smaller but still delicious meal that gives the family the flavors they look forward to each year can still be done.
I have done a meal for 6 for under $50.
Simplify your menu, shop the sales and plan. If you have some of the lower priced grocers near you like Aldi and Lidl that will help.
This menu is simplified to basics. A nice meal with loved ones. It is not 6 casseroles, 4 pies and appetizers. Turkey, mashed and sweet potato options, stuffing/dressing, pie with ice cream or whipped topping, cranberries and the vegetable side your family likes best. Throw in some dinner rolls for $1-2 if you must.
So let's save on the holiday meal! Here's how:
Save on Thanksgiving turkey
Frozen turkeys from the year before should be on offer at most grocery stores within 10 days of Thanksgiving. They can run from .49-.79 cents per pound. This includes bigger stores like shoprite, Publix, Kroger, Ralphs, etc. Watch diligently for that price announcement 10 days to a week before thanksgiving and go get it the day the sale starts. The store will have a limited quantity and size options. I got a 12 lb bird for under $7. I brined it and it was juicy and flavorful. You'd never know it was from the year before.
Save on potatoes
Both white and sweet potatoes likely will be on sale for the holiday for under .99 a lb . Often I will see a 10 lb bag of white potatoes for $2 or even if it's a 5 lb bag for that price it is a good deal. If you're making sweet potato casserole you only need a pound or two. Potatoes should be under $5 total. Worst case and it's not even all that bad, use potato flakes. They are delicious reconstituted with plenty of butter, some garlic powder and whole milk.
Save on butter and dairy
Butter will be on sale store brand under $3 per pound. Butter is higher priced in 2022 so I don't expect to see it under something like 2 for $5 but 2 for $5 I do expect some stores to offer. You will need butter probably for most of the dishes you are making.
Do you need milk or eggs for things like pie and dressing/stuffing? Store brand milk is still pretty reasonably priced where I live at about $1- 1.25 per half gallon.
Save on pie
Pie: premade and homemade crust end up costing about the same when on sale. Butter and flour are higher priced in 2022 but I expect them to be included in the holiday sales.
Check your pantry for staples like brown sugar, evaporated milk, sugar, spices, molasses (can be used to make your own brown sugar) and flour. Sometimes premade or frozen pies in your grocery store will cost less than buying all the staples only to end up using a small amount of them. Pie filling may be less expensive than buying ingredients to make filling from scratch, depending on the type your family likes.
Pumpkin pie with crust and a topping you can do for $6-$7. Apple pie from fresh apples may be just a bit more or opt for canned filling to bring down the price. Ice cream store brand likely will be on special if you have $3-4 more to spend on it.
Cranberry sauce
Cranberry sauce fresh or canned is generally going to run in the .99-&2.50 category (higher if you make fresh and use sugar and oranges)
Staples
90% of you likely have poultry seasoning from years before. Make sure you have enough salt (I like Kosher salt for the clean flavor), pie spices if making them, chicken stock (I use kitchen accomplice concentrate so I just get the amount I need and can use it as needed from then on) for stuffing and gravy, onions, celery, carrots. Do you need extra ingredients for the sweet potatoes? Marshmallows, eggs, sugar?
Save on stuffing/dressing
Start watching for bread on markdown weeks before, it needs to be stale anyway and freeze it until a day or two before you prepare it. This can save you up to $6. Markdown bread is as low as .50 a loaf. If you like cornbread, buy a box for .50 at the discount stores or watch for brands like Jiffy to go on sale for the season. Keep in mind you need an egg and oil for the mix. 2 onions, a bunch of celery and if you like an apple or sausage in there add on another $3-5. Butter and chicken stock generally will be used and if you like egg in it add that to the price as well. Yes the stuffing may end up being the most expensive dish but it's also most everyone's favorite so make it good!
Vegetable side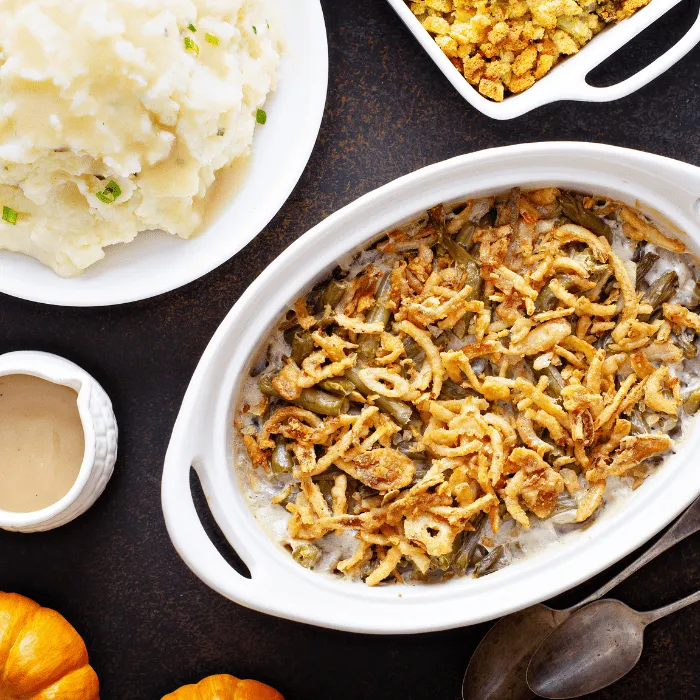 I know the green bean casserole is a national favorite but it can get pricey if you're trying to stay in the $50 range. Traditionally prepared with sale ingredients will be in the $6-7 range. You can opt for whatever green vegetable your market has on sale for .99 per lb and steam it served with butter, lemon or garlic. Even on a budget there will be plenty of food so you won't need a lot for people to be full from a green vegetable.
With the seasonal sales, store brand is not always the lowest price.
Beverages
Ok so serving glasses of water ONLY isn't all that festive. We're at about $30-35 now. There's some room for a bottle of wine or two from Aldi or the like. That's $8. It's not fancy wine but it works when on a budget OR A jug of cider, $5. Cranberry juice 2 for $5 on sale.
As you sit down to eat your lovely meal, take a breath and remember the things you are thankful for. Financial stress can be overwhelming but there is much in each of our lives to give thanks for even in difficult times.