Ads allow content creators to provide free useful and compelling content to the public. We may earn money or products from the companies mentioned in this post. See the Affiliates and Disclosures page for more information.
Savory and sweet keto and carnivore snacks
These high protein snacks will help you hit your daily protein goals!
don't know about you but sometimes I have a hard time hitting my protein goal each day even with the protein focused way of eating that is keto/ketovore/carnivore. Snacks are a tasty way to fill in protein gaps.
Table of Contents
If you miss crunch on your low carb eating plan I have some snack options to answer the crunch demand!
I am going to introduce you to my favorite and fun snacks that fit my macros and even help me meet those macros every single day!
Keto chips from keto valley
Keto valley seaweed chips
If you love the briney saltiness of nori these are for you. The different flavor profiles in each of the 4 varieties balance nori with crunch, a hint of sweetness and salt.
Portion controlled bag is just over 100 calories with macros that easily fit into your daily goal.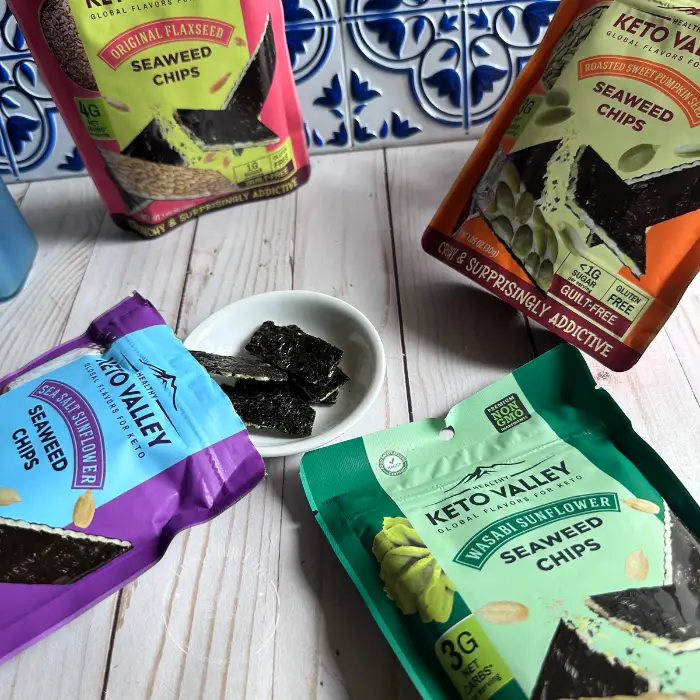 The flavor and nutty crunch (thanks to flaxseed, pumpkin seeds and sunflower seeds) is sandwiched between two thin crisp nori sheets and compliments nori beautifully.
A surprising generous portion for a one ounce bag size. 120 calories for a crunchy nutritious snack? No way! Yes it's true!
Four flavors:
Sea salt sunflower
Roasted sweet pumpkin seed
Original flaxseed
Wasabi sunflower
Carnivore keto zero carb cheetos
With just two ingredients (plus seasoning if you like) you can put together a healthy flavorful cheeto-like snack. I make these all the time and will clue you into how I get the complexly satisfying flavor in this crunchy snack.
If you've been eating whole food keto or carnivore for awhile you may find artificially seasoned snacks unpleasant now, but this solves that because it is all whole food you have at home right now.
Bonus: no gross caked up orange fingers!
This recipe adapated from Maria Emmerich
Macros: (recipe is 6 servings) Calories: 46 | Fat: 3.1g | Protein: 4.2g | Carbohydrates: 0g
Ingredients:
3 large egg whites
1/8 teaspoons cream of tartar
1/2 cup freshly shredded cheddar cheese FROZEN
my flavor add ins (optional) garlic powder, Kashmiri chili powder (warm and complex without heat), nutritional yeast
Shred your cheese by hand onto a flat plate or small baking pan then put in freezer for at least an hour. Then when ready, preheat oven to 300 degrees F.
Whip whites and cream of tartar until very stiff. Add in 1/4 tsp garlic powder, 1/2 tsp nutritional yeast and pinch of kashmiri chili powder. Fold in. Then add frozen grated cheese and fold in gently.
To bake, pipe onto baking sheet by using a large ziplock or pastry bag . Cut a 3/4″ opening and pipe into 3-4″ strips onto parchment lined or silicone lined sheet. I sometime uses my mini donut silicone pans for cheeto rings – paired with an equip protein vanilla shake!
Bake for 20-30 mins, turn off oven and leave them in there another half an hour for the ultimate crunch.
Thanks Maria!
Keto granola
If you miss crunch in your whole fat greek yogurt, try catalina crunch brand keto cereal. It isn't granola per say but it can be used like granola as a cereal with some cream, ultra filtered milk or other dairy. If you're sensitive to stevia flavor it may not be for you but otherwise it's a great high crunch option.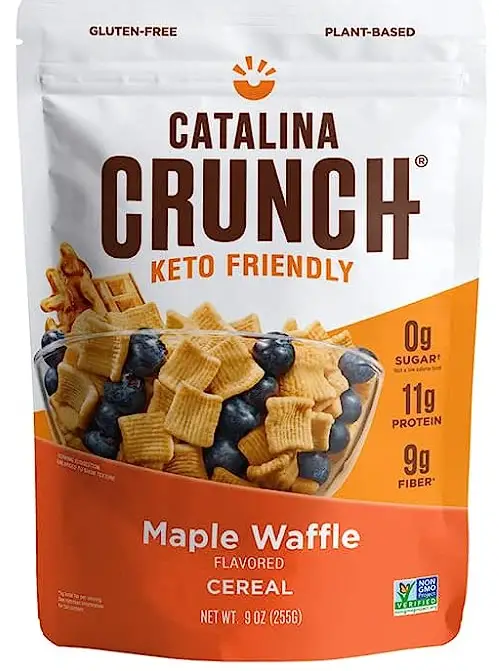 I like the cinnamon toast crunch flavor the most.
You may also like this dairy free no bake keto dessert
Carnivore chips – how to make them
You can buy carnivore chips or do like I do and make them yourself! They are pure protein and zero carbs. Making them yourself is less expensive than a bag of doritos or whichever name brand chip snack you can think of.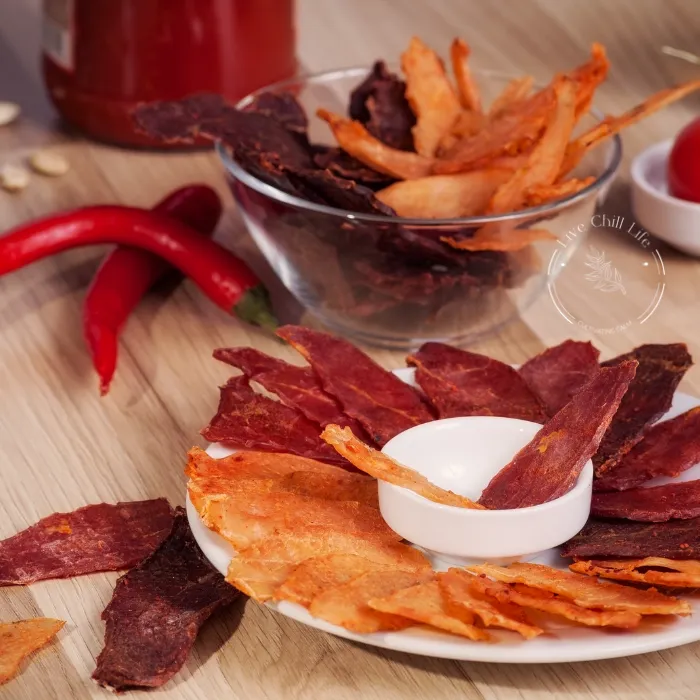 To make carnivore chips
8 ounces of boneless chicken thighs or breast and thigh mix
parchment paper and baking sheets
Season to your liking , I use Redmond's real salt garlic salt.
rolling pin
plastic wrap
Directions:
Preheat oven to 325.
Put cut up pieces of chicken into a food process and "grind" til it's a fine mince/pulp so that it can easily be spread paper thin. Add your seasoning in for the final 3-4 pulses.
Cover baking sheets with parchment paper. I use these precut sheets they are so convenient!
Put half the processed chicken onto one of the two sheets of parchment paper, Place plastic wrap over it that covers the whole length of the parchment. Gently and evenly roll out the mixture until paper thin. Repeat with other half of chicken mixture.
Bake for 20 minutes, then turn over, bake another 20 minutes and begin to check crispness. It is done when there are no "rubbery" sections left.
Allow to cool for 15+ minutes then break into pieces and enjoy. I like to use them for nachos or as a meal with keto friendly homemade ranch dip.
Alternative to making your "base" fresh you can use deli turkey, chicken or ham and turn them into crisps. Lay the slices in a single layer and put in a 150F oven. Allow to dehydrate for 5-7 hours until they are crispy then enjoy.
No sugar jerky
Jerky is the chewy cousin the carnivore chips and is much more readily available to purchase. The trick is to find jerky that is no sugar added.
Some brands to consider:
Keto chex mix
This favorite crunchy snack is made keto by Catalina Crunch. It has all the goodies you love in chex mix but in keto form!
Find it in cheddar, ranch, original and spicy!