We may earn money or products from the companies mentioned in this post. See the Affiliates and Disclosures page for more information.
Free colorful crochet blanket pattern ideas
Is color your style? The statement of colorful patterns brings a smile to many of us and can take some of the monotony out of a large project like a blanket.
This mosaic blanket weaves in three colors that you can customize to fit your decor.
Mj's off the hook design has a helpful video tutorial to make sure you get a good result. This pattern uses worsted weight yarn and a 4.5 mm hook. Go up a size to work the double border that hides all those pesky ends.
I like mosiac as a change of pace when I want my stitches to be more interesting rather than monotonous. Do you like fun stitches or do you prefer more meditative stitches that are a repeat each row?
More info on the Caribbean coast afghan here.
The boardwalk hexie blanket is a glorious mix of color and shapes. You can't help but smile at the sight of it!
This type of design is a conversation piece. Imagine the color combinations you can come up with!
Designed by Chrisandra Skipper. It measures 44″ x 36″ . Worsted weight yarn in three shades is used with a 5 mm crochet hook.
The stripes and texture of this blanket bring the project to life. The pattern recommends Caron one pound yarn worked with a 6 mm hook.
I love one pound yarn for big projects don't you? So many less ends to worry about connecting and weaving in.
The fringe adds a whimsical stylish element to make it a real showstopper.
Free Pattern by Yarnspirations.
T-shirts and project totes for crocheters available in my Etsy shop!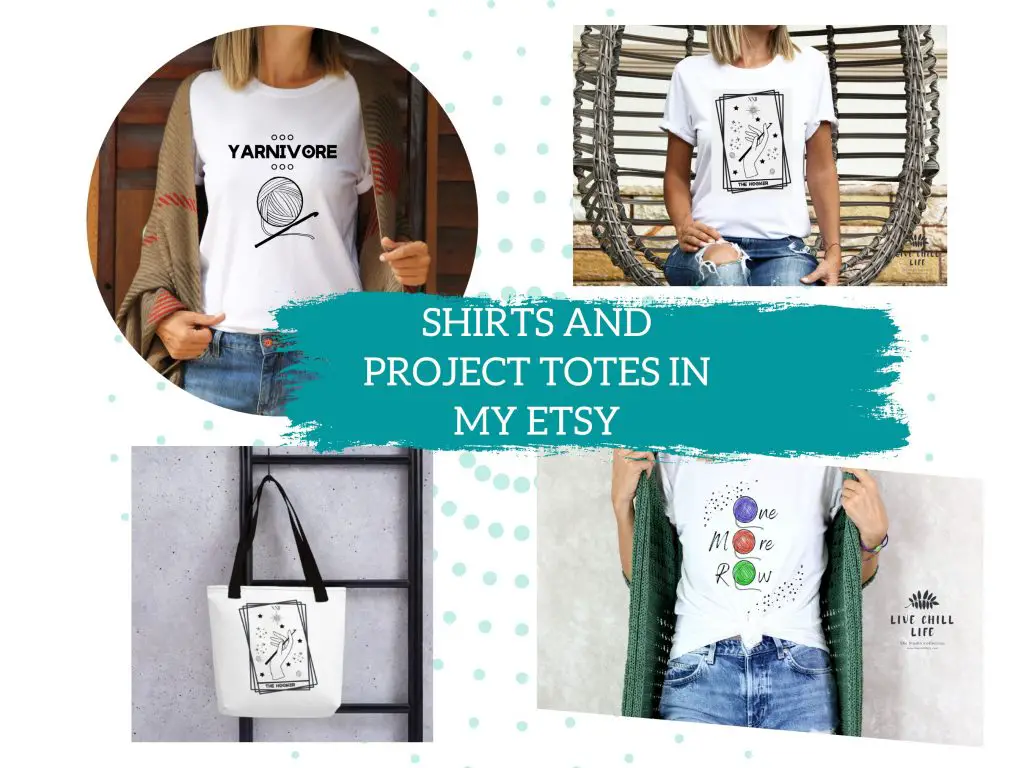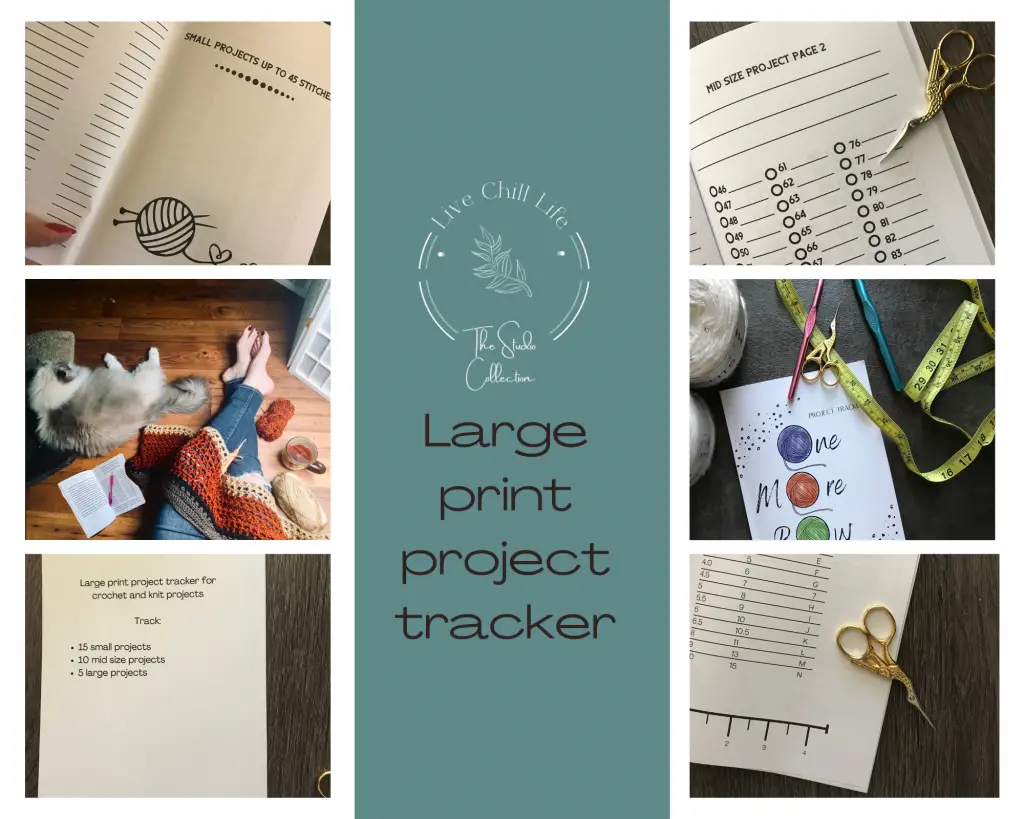 I designed project trackers! This is the large print version for tired eyes. So much easier than using apps, scraps of paper or a plain notebook.
Three project sizes, a handy ruler and hook guide inside the cover and plenty of rooms for notes in each pattern.
Buy it here.
Regular size print here.
I have had bad eyesight since age 18 so large print is a godsend when you can't see apps and dark yarn, let alone going from one to the other on a crochet-a-thon during a netflix binge.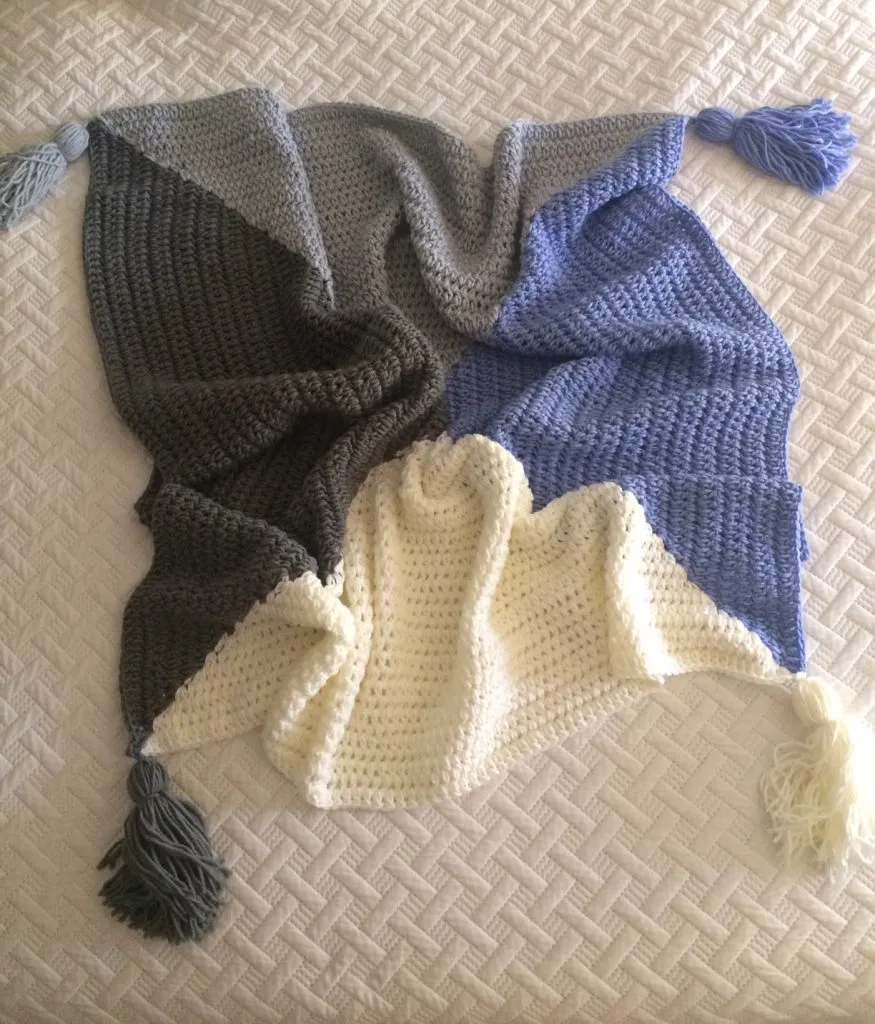 This quad blanket is a large granny square. It looks fresh and modern. It comes together quickly in a thicker yarn. I had fun making this one.
Yarn shown is Lion Brand Color Made Easy, a category 5 yarn.
Recommended yarn is Lion Brand color made easy which is a 5 weight yarn and the designer uses a 6.5 mm crochet hook.
I chose colors that match both my living room and bedroom so I can use it in both living spaces.
Pattern by Jess @ Make and do crew.
A classic plaid works in multiple tonal colors to create a timeless classic blanket for yourself or for a gift.
This version is made with caron simply soft yarn and worked with a 5 mm crochet hook. A dizzying array of color combo options with this pretty, affordable, soft acrylic yarn.
Designer Tiffany of Daisy Farm Crafts. Get the pattern here.